Bruce Willis: Die Hard Star… and Stuntman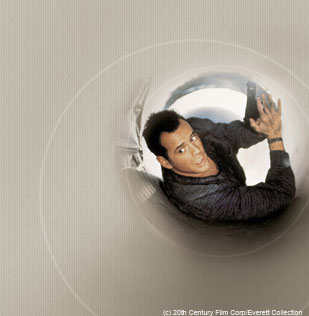 Though Die Hard employed 37 stunt men, not all of the movie's seemingly death-defying stunts were done by doubles. Director John McTiernan recalled, "The first time we got to the point in a scene where you would insert a stuntman, I told Bruce he would only have to take it up to here, and he then could go sit down. He said, 'No, I want to do it.' And all of a sudden, you saw that New Jersey street kid in him come out. It's not that he did anything dangerous, but it was a side that he had not shown us before."
Since Die Hard was Bruce Willis' first action role, the stunts were more challenging than any he had attempted before. Nevertheless, Willis was game. "First off, I think doing my own stunts whenever possible adds a lot to the production value of the film," Willis said. "John can get the camera close, because he doesn't need to disguise the stuntman. But on a personal level, it satisfies the little boy who still lives in me who gets to shoot guns, kill the bad guys and be a hero while doing jumps and falls and swinging from ropes."
Director McTiernan was pleased that both Willis and Rickman were willing to do some of their own stunts, but since the actors were generally well-protected and attached to harnesses, he was never terribly worried about their safety. "For example, when you fire a weapon, you have to use ear protection for the actor and ear and eye protection for everyone out front," he explained. "I get asked all the time about how dangerous it was to shoot Die Hard. Part of the nonsense of shooting a movie is that you have to pretend that it was incredibly dangerous. It's basically a sales illusion. These are movies made by a major corporation that have to function in the real world of lawyers and insurance policies and lawsuits and all that sort of stuff, so you don't do things that are dangerous. If they are dangerous, by definition you can't do it — and certainly not with a star."
McTiernan continued, "Often, stars will talk about the incredibly dangerous things they did, and I suppose many times the things they do are at least frightening. For an inexperienced person getting into it for the first time, it's scary. But if you have a stunt, you have to work it out to the point where you are pretty damned certain of how it's going to work and that it is safe."
Nonetheless, McTiernan wasn't entirely worry-free while filming Die Hard. "Most of my nightmares were not to do with anyone getting hurt by a stunt, because the precautions were so heavy," he said. "I was more concerned that a stupid accident might happen, that a crew member might fall off the building. I literally had these nightmares, and would come in the next morning screaming and insisting on limited access to the roof. So they thought I was the sissy, but I just didn't want to have to talk to somebody's wife."
Though Bruce Willis enjoyed the adventure of doing his own stunts, he admitted that it wasn't easy. "It was a stretch for me," he said. "Every day, I felt like I had been in a fight." Even so, Willis believes the benefits of doing his own stunt work are worth the pain. In fact, he still did much of his own stunt work 20 years later, in Live Free or Die Hard. "Do the math," said the 52-year-old Willis. "It was still fun, but really difficult. I thought I was in shape, but I had to get in a little bit better shape.
Read more about Die Hard's debt to A Clockwork Orange and Beethoven.
Read more about how the director infused some joy into a terrorist plot.
Sources:
Die Hard Production Information, 20th Century Fox Press Release<
Todd McCarthy, "McTiernan Keeps Highrise Action Earthy," Variety, 7/25/88
Peter Keough, "Bruce Willis Finds Image as Bad Boy Dies Hard," Chicago Sun-Times, 7/17/88
Robert Emery, The Directors: Take Two, 2002
Curt Holman, "Bruce Willis: The Last Action Hero," Creative Loafing, 6/27/07
Read More