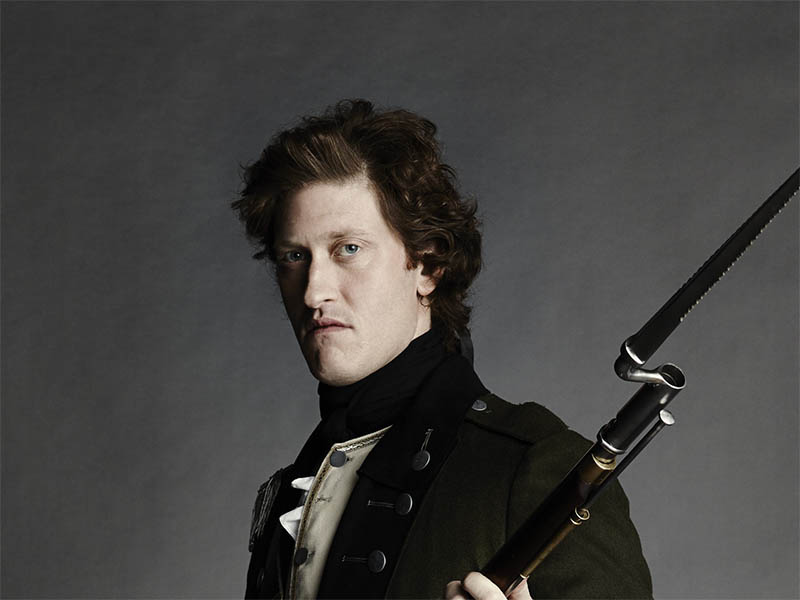 John Graves Simcoe is a born attack dog who harbors an intense dislike for most colonists, especially Abe. He holds a deep infatuation for Anna that is both menacing and disturbing. A skilled fighter and true believer in the British cause, Simcoe is as crafty as he is dangerous. After suffering under the harsh interrogation of Ben Tallmadge, Simcoe was released back to the British in a prisoner exchange. Returning to Setauket, he engaged in a dramatic duel with Abe in an attempt to claim Anna as his own. Ultimately, Simcoe engineered a conspiracy designed as retribution against the families of Ben and Caleb. When his plan is foiled by Ben's raid, a furious Simcoe executes Caleb's uncle at point blank range, forcing a horrified Hewlett to have him arrested and gagged.

Samuel Roukin has an extensive background in British theater including roles in Trevor Nunn's Hamlet at The Old Vic; Bijan Shebani's The Kitchen at the National Theatre; and Sir Nicholas Hytner's His Dark Materials and Henry IV Parts 1 & 2. Roukin also spent a season at The Royal Shakespeare Company in the lead role of Pip in Declan Donnellan's adaptation of Great Expectations. Most recently on Broadway, Roukin played Valvert in The Roundabout Theatre's production of Cyrano de Bergerac.

Roukin's film debut was alongside Sally Hawkins in the Oscar-nominated film Happy Go Lucky, directed by Mike Leigh. Other films include Jane Campion's Bright Star and David Yates' Harry Potter and the Deathly Hallows. Roukin's television credits include guest star and recurring roles on multiple series including Housewife 49, Appropriate Adult, and Richard II, produced by Sam Mendes.

Roukin is a native of Southport, England, was trained at The University of Hull, and earned a distinction from Bristol Old Vic.