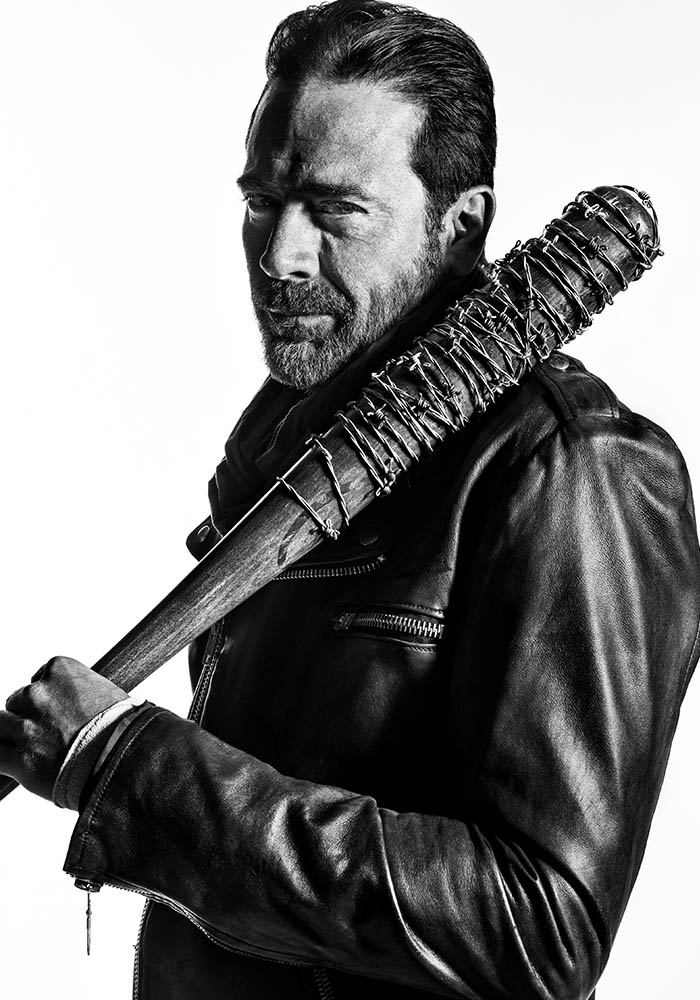 Negan is a charismatic, totalitarian ruler with an iron fist in the form of a baseball bat named Lucille. He knows exactly how to make an introduction, establish his rule, and widen his scope of control and dominance. There are no hidden secrets – you follow his rules, you live; you don't follow his rules, you die. He is a man of his word.

Jeffrey Dean Morgan began his career in television. It was in 2005 and 2006 when he endeared himself to television audiences worldwide with three concurrent recurring roles on the CW series Supernatural, as John Winchester; on the ABC hit series Grey's Anatomy, as transplant patient Denny Duquette; and on Showtime's award-winning comedy series, Weeds, as Judah Botwin -- all of which made Morgan a universal fan favorite.

He then starred in the feature film P.S. I Love You, with Hilary Swank. Next, he captivated fans in Watchmen as Edward Morgan Blake/The Comedian for director Zack Snyder, which was an adaptation of the iconic graphic novel. Morgan then went on to star in Ang Lee's Taking Woodstock and Joel Silver's The Losers, an adaptation of DC-Vertigo's acclaimed comic book series, directed by Sylvain White.

He then appeared in the murder mystery The Texas Killing Fields, with Sam Worthington, Chloe Moretz, and Jessica Chastain. In 2016, Morgan reteamed with Zack Snyder, making a cameo appearance in Batman v. Superman: Dawn of Justice.

Morgan's additional feature film credits include Peace, Love & Misunderstanding, alongside Catherine Keener, Jane Fonda, and Elizabeth Olsen for director Bruce Beresford; the thriller The Possession, with Kyra Sedgwick for producer Sam Raimi; Red Dawn, the reboot of the 1984 action movie; The Salvation, with Eva Green and Mads Mikkelsen, which premiered at the Cannes Film Festival; and Heist, alongside Robert DeNiro.

In 2012, Morgan starred as hotel owner Ike Evans in the critically acclaimed Starz series Magic City, which depicted mob life in 1950s Miami.

More recently, he co-starred alongside Halle Barry in the second season of the CBS series Extant, created by Mickey Fisher and produced by Steven Spielberg. Morgan also starred in the Emmy®-nominated History Channel mini-series Texas Rising, with Bill Paxton and Ray Liotta, which depicted the Texas Revolution against Mexico.

Morgan also starred in the final season of the award-winning CBS series The Good Wife, in which he portrayed freelance investigator Jason Crouse.

Movie audiences will next see Morgan star alongside Gael García, Alondra Hildalgo, and Diego Cataño in the gripping thriller Desierto, from Jonás Cuarón and Alfonso Cuarón. The film premiered at the 2015 Toronto Film Festival, where it won the International Critics' Award, and the LA Film Festival. The film will be released in fall of 2016. Audiences can also see Morgan as agent Joe Merriwether in the thriller Solace, opposite Anthony Hopkins, Colin Farrell, and Abbie Cornish for director Afonso Poyart.