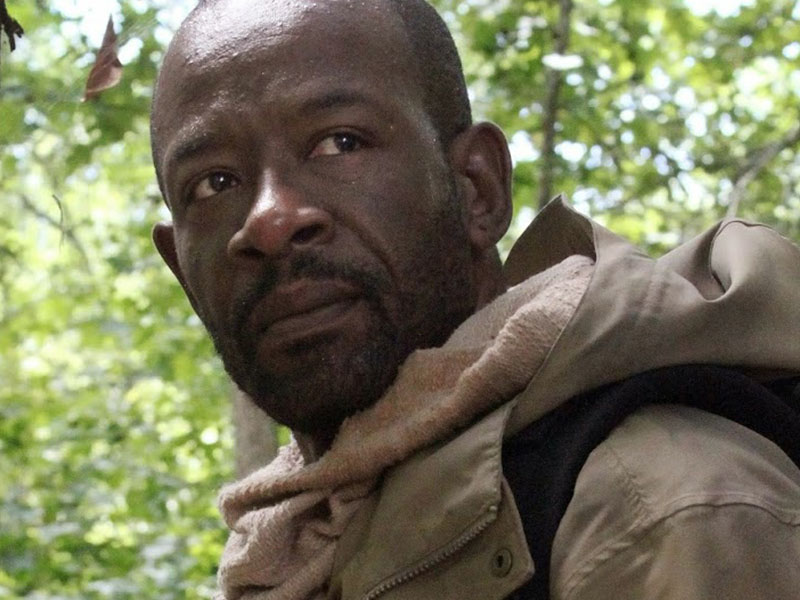 Following the walker outbreak, Morgan evacuated with his wife Jenny and his son Duane. Their plan was to head for Atlanta in search of military protection. En route, a walker attacked Jenny, forcing the family to seek refuge in Rick's hometown. "After she died," Morgan tells Rick, who he finds disoriented near his house, "I guess we just froze in place."

Fiercely protective, Morgan barricades himself and Duane inside a vacant house. Despite the dire conditions, Morgan still endeavors to create normalcy for Duane, correcting his son's grammar and praying before meals. But both remain haunted by the loss of Jenny, who returns to the house regularly as a walker.

Rick and Morgan eventually part ways, promising to meet up in Atlanta after Duane learns to shoot. Morgan's final warning to Rick: "They might not seem like much one at a time. But in a group, all riled up and hungry? Man, you watch your ass."

Rick tries several times to reach Morgan on his walkie-talkie, first instructing Morgan to head to the CDC and finally warning him to stay away from the city. "Atlanta's done," Rick says, bidding farewell. His transmissions go unanswered.

Nothing is known of Morgan until months later, when Rick, Carl and Michonne return to Rick's hometown to look for guns. While there, they find that Morgan has booby-trapped the streets and holed up in an apartment with a cache of guns.

Rick learns that Morgan has grown mentally unstable, especially after Duane died at the hands of his walker wife. He curses himself for not being strong enough to kill Jenny when he had the chance. "The weak people," he laments. "We have inherited the Earth."

Rick urges Morgan to join them at the prison. Morgan refuses, saying he doesn't want to watch everyone die. "You will be torn apart by teeth or bullets," Morgan warns before allowing Rick to take the guns.

Lennie James was born in Nottingham, but sees himself very much as a South Londoner, as that is where he spent almost all of his formative years. James started acting after he followed a girlfriend into an audition and was asked to take part by the director. He is a graduate of the Guildhall School of Music and Drama and is a board member of the Young Vic Theatre in London.

James has a long-spanning career. His most recognizable role is starring as a regular in the hit CBS series Jericho and AMC's mini-series The Prisoner. He has appeared in several other television shows on network television in both the U.S. and Great Britain. He has also starred in countless films such as Outlaw, Sahara, Snatch and Les Miserables, among others. His theater career includes performances in shows such as A Raisin in the Sun, Two Gentlemen of Verona and Macbeth. James can currently be seen as a series regular on the HBO series Hung. He recently completed work on the feature film Colombiana with Zoe Saldana, and is presently shooting Lockout with Guy Pierce.

James is an award-winning actor and writer, but mostly, a father of three teenage girls, and has learned to accept his place in the world as an ATM and taxi driver. He is also a dedicated supporter of Tottenham Hotspur Football Club and will one day learn to play the saxophone, which he bought with his first week's wages as a professional actor and which he keeps under his bed. At present, James lives in Los Angeles with his family, but returns often to London for good West Indian cooking, fights with his brother, and rain.