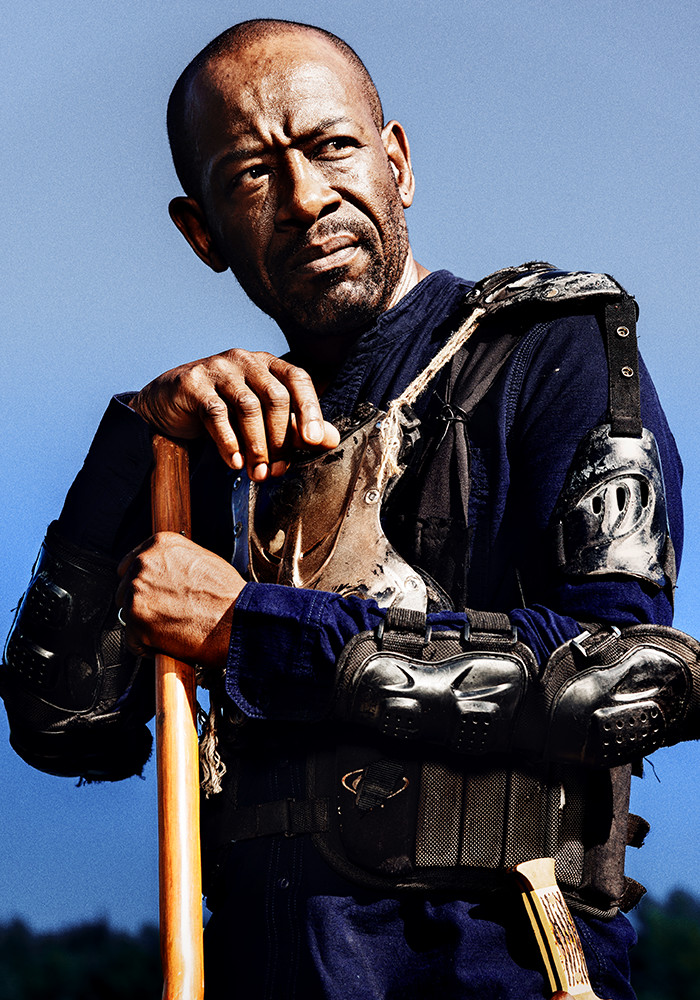 Morgan is questioning his philosophy. He was unable to kill his wife when he had to, which lead Morgan to kill – to "clear" – everything and everyone. All life became precious again when he met Eastman. Then he had to kill a Savior to save Carol. He is coming to terms that he cannot live in absolutes. Will this lead him to abandon his philosophy?

Born in Nottingham and raised in South London, England, Lennie James trained at the Guildhall School of Music & Drama. His many theatre credits include Etta Jenks, opposite Miranda Richardson; Roy Williams' Fallout at The Royal Court; August Wilson's Ma Rainey's Black Bottom; The Coup, with Norman Beaton at The National; The Young Vic's production of A Raisin In The Sun; and the eponymous hero in the Tricycle's production of Macbeth.

James has had a rich and varied television career on both sides of the Atlantic, including Civvies and Comics by Lynda La Plante, Undercover Heart, Out of the Blue, the award-winning Buried (BAFTA) and Storm Damage (RTS). He starred in the critically acclaimed Run for C4 and Jed Mercurio's Line of Duty for BBC2. In the US, he has been praised for his performances in CBS' history-making series Jericho, HBO's Hung, and AMC's Low Winter Sun and The Walking Dead. He has most recently been seen as the lead in the UK series Critical for Sky TV.

James has many notable film credits to his name as well, including Sol in Guy Ritchie's Snatch, starring Brad Pitt and Benicio Del Toro; Sahara, alongside Matthew McConaughey and Penelope Cruz; Michael Winterbottom's 24 Hour Party People; Nick Love's Outlaw, with Bob Hoskins; The Next Three Days, with Russell Crowe; Luc Besson's Colombiana, with Zoe Saldana; and Lockout, opposite Guy Pearce. He most recently starred in the modern-day western Swelter and in Tate Taylor's James Brown biopic Get On Up, opposite Viola Davis and Chadwick Boseman.

Recently announced, James joined the cast of the much-anticipated Blade Runner sequel, due for release October next year.