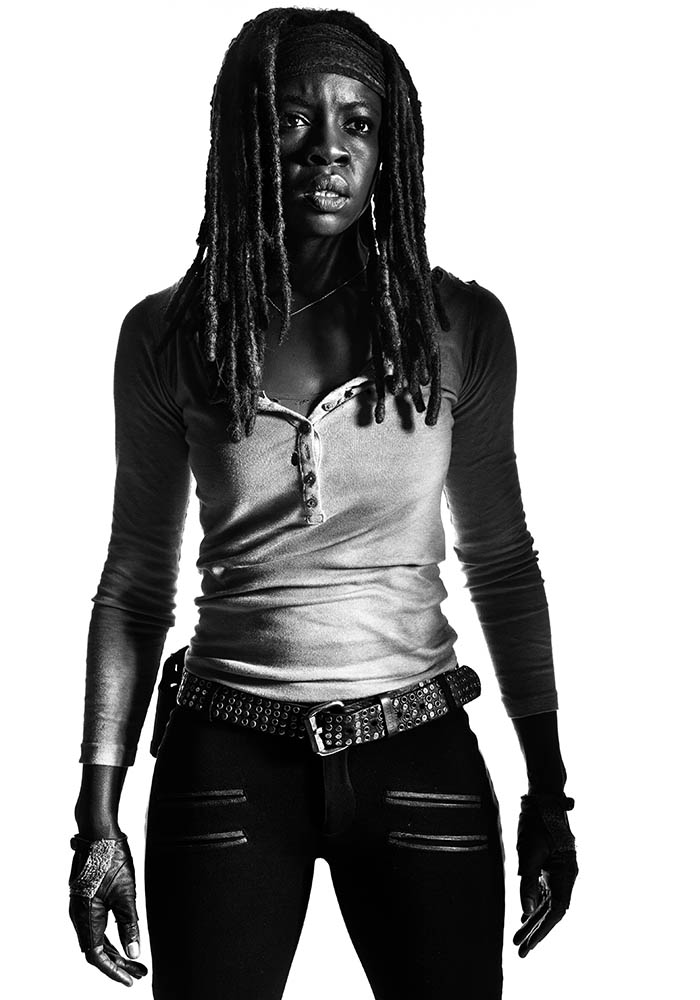 Michonne picked back up her katana with reluctant acceptance that no one can leave behind the savagery of this world. She is trying to envision the next phase of societal living, a future beyond survival. No longer wanting or needing to be alone in the world, Michonne has people in her life she loves and people who love her as well.

Danai Gurira has established herself as a sought-after actress in film, television and theater; as well as an important playwright exploring the experience of African Women.

Gurira recently starred as the title character in the feature film, Mother of George, which tells the story of an African woman's struggle, after arriving in the U.S., to honor her heritage while attempting to define her new marriage in modern terms. The film was a critical darling and was recognized by the National Board of Review as one of the year's Top 10 Independent Films. Additionally, Gurira was nominated for a slew of awards from the Women's Film Critics Circle Award to the Chlotrudis Award. Gurira's other film credits include The Visitor, Three Backyards, and Restless City. In addition to AMC's The Walking Dead, Gurira has previously appeared on HBO's Treme, among other television series.

On stage, Gurira starred in Bartlett Sher's award-winning Broadway revival of Joe Turner's Come and Gone. She also starred as Isabella in the 2011 Shakespeare in the Park (NYSF) production of Measure For Measure, for which she won the Actor's Equity Callaway Award.

An award-winning playwright, Gurira's plays include The Convert, which garnered six Ovation awards and for which she won a Los Angeles Drama Critics Circle Award for Best Writing; and Eclipsed, which won the Helen Hayes Award for Best New Play and garnered Gurira a NAACP Theatre Award for Best Playwright. In 2012, Gurira won the prestigious Whiting Award, which honors writers in various fields. She is also a Hodder Fellow at Princeton University and a commissioned playwright with Yale Repertory Theatre, Center Theater Group, The Royal Court and Playwrights Horizons.

Gurira has a Master of Fine Arts degree in theatre from New York University's Tisch School of the Arts. She gained initial success starring in the play In The Continuum, which she co-created and co-wrote while studying at NYU, receiving numerous accolades including an Obie Award, an Outer Circle Critics John Gassner Award, the Global Tolerance Award (Friends of the United Nations), a Helen Hayes Award for Best Lead Actress, and the Theater Hall of Fame Honors.

Gurira is the co-founder of Almasi (Al-ma-see), a Zimbabwean American Dramatic Arts Collaborative Organization. Their mission is to instill professional values, skills, and practices in the Zimbabwean Dramatic Arts through education and collaboration with professional American dramatic artists and artistic institutions. They also seek to provide the African dramatic artist with professional opportunities and bring the African Dramatic voice to the world.