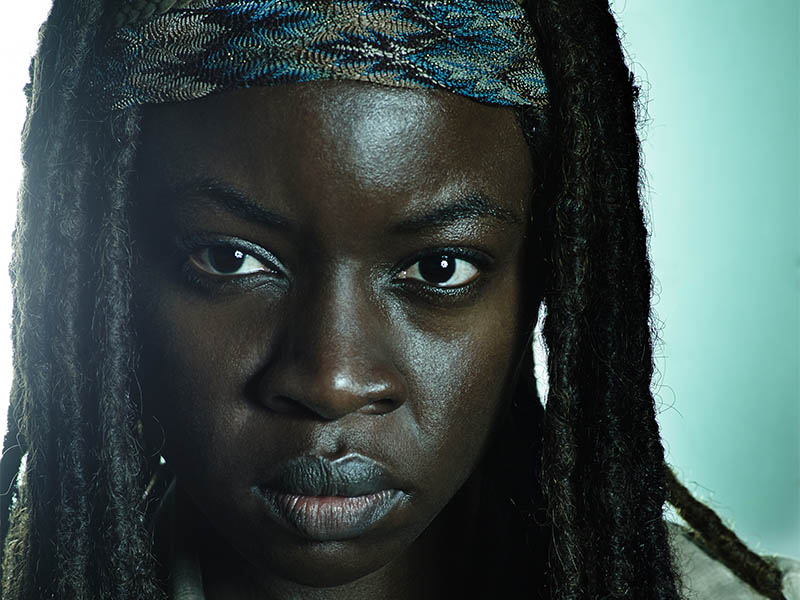 Before the apocalypse, Michonne lived with her boyfriend Mike and their three-year-old son Andre in a loft in downtown Atlanta. After the fall, she taught herself to wield a katana and became a fierce warrior. Andre was eventually killed and Mike fatally bitten during a walker attack at their refugee camp. Blaming Mike for Andre's death, Michonne turned him and his friend Terry into walker pets and roamed the countryside alone.

Michonne saves Andrea from a herd of walkers following the battle at Hershel's farm. They spend the winter together, fending for themselves as a close-knit team.

When Andrea falls sick, Michonne cares for her and scavenges medicine in a walker-infested pharmacy. Andrea is on the verge of death, however, when Merle discovers them near a helicopter crash site. He brings them to an idyllic town, Woodbury, where they meet the Governor.

Though Andrea is immediately taken with Woodbury, Michonne harbors a deep mistrust of the Governor, who refuses to hand over her confiscated katana despite her repeated requests. After Michonne leaves Woodbury, she finds the prison and offers to show the group how to gain entry into Woodbury to rescue Glenn and Maggie. Although her secretive nature initially has Rick on his guard, she eventually gains the group's trust and proves to be a valuable asset in defending the prison against Woodbury.

As peace settles in at the prison, Michonne develops a close bond with Carl, procuring comic books and candy bars for him during her frequent supply runs. Her real mission on these runs, however, is to hunt down the Governor. But after months without any tangible leads, Daryl convinces Michonne that the trail has gone cold and she agrees to stop hunting him.

The Governor, it turns out, has not disappeared for good: One day he kidnaps Michonne and Hershel in a gambit to take the prison for himself. Michonne vows to kill him and later delivers on her promise, stabbing him through the heart with her katana during the prison attack.

In the aftermath of the battle, Michonne creates a new set of walker pets and adopts her lone warrior persona once again. She begins having nightmares about Mike and Andre and, no longer wanting to be alone, tracks down Rick and Carl at an abandoned house. Over the following weeks, she grows even closer to Carl, eventually telling him about her son and how Andre's loss turned her into a lost soul. "But Andrea brought me back," Michonne tells Carl. "Your dad brought me back. You did."

Actress and playwright Danai Gurira recently appeared in the independent drama Mother of George. The film premiered at the Sundance Film Festival and was acquired by Oscilloscope Laboratories. It premiered in New York and expanded to Los Angeles and an additional 10-20 markets the following week.

Gurira also starred in the multiple award-winning film The Visitor, opposite Richard Jenkins. Other film credits include 3 Backyards and Restless City. Her television credits include roles in Law & Order: Criminal Intent, Lie to Me, as well as a recurring role on the HBO David Simon series Treme.

An award-winning playwright, her most recent play, The Convert (Stavis Award, LA Drama Critics Award and six Ovation Awards), is a historical drama set in Rhodesia, present day Zimbabwe. It is part of a trilogy Gurira is writing about her native country's coming of age. A commission of Center Theatre Group, it premiered at the McCarter Theater and also ran at The Goodman, CTG's Kirk Douglas, Woolly Mammoth Theatre, and the Wilma Theater in Philadelphia. The play recently completed its African premiere in Harare, Zimbabwe.

Gurira's initial success was as the co-lead of In the Continuum, a play she co-performed and co-wrote while in the MFA acting program at the Tisch School of the Arts, NYU. Gurira performed the play off-Broadway, in numerous theaters around the U.S., and in Africa. She received numerous accolades including an Obie, the Outer Critics Circle John Gassner Award, the Global Tolerance Award (Friends of the United Nations), and the Theater Hall of Fame Honors. Gurira also received the Helen Hayes Award (Woolly Mammoth).

She subsequently received a grant for research in Liberia, which resulted in her second play Eclipsed and earned Gurira Best Playwright at the NAACP Theatre Awards and Best New Play at Helen Hayes Awards. On Broadway, Gurira starred in Bartlett Sher's award-winning revival of Joe Turner's Come and Gone. She also earned the Actors' Equity Joe A. Callaway Award for her performance as Isabella in the 2011 Public Theater's Shakespeare in the Park production of Measure for Measure.

Gurira was also a Hodder Fellow at Princeton University and a commissioned playwright with Yale Rep. She is also the recipient of the prestigious Whiting Writers' Award (2012). Her newest play Familiar will premiere at Yale Repertory later this year. She is cofounder and President of Almasi, a Zimbabwean American Dramatic Arts Collaborative Organization. Its mission is to instill professional values, skills, and practices in Zimbabwean Dramatic Arts through education, collaboration, and cultural exchange with professional American dramatic artists and artistic institutions.

Gurira was born in the U.S. and raised in Zimbabwe by Zimbabwean parents.