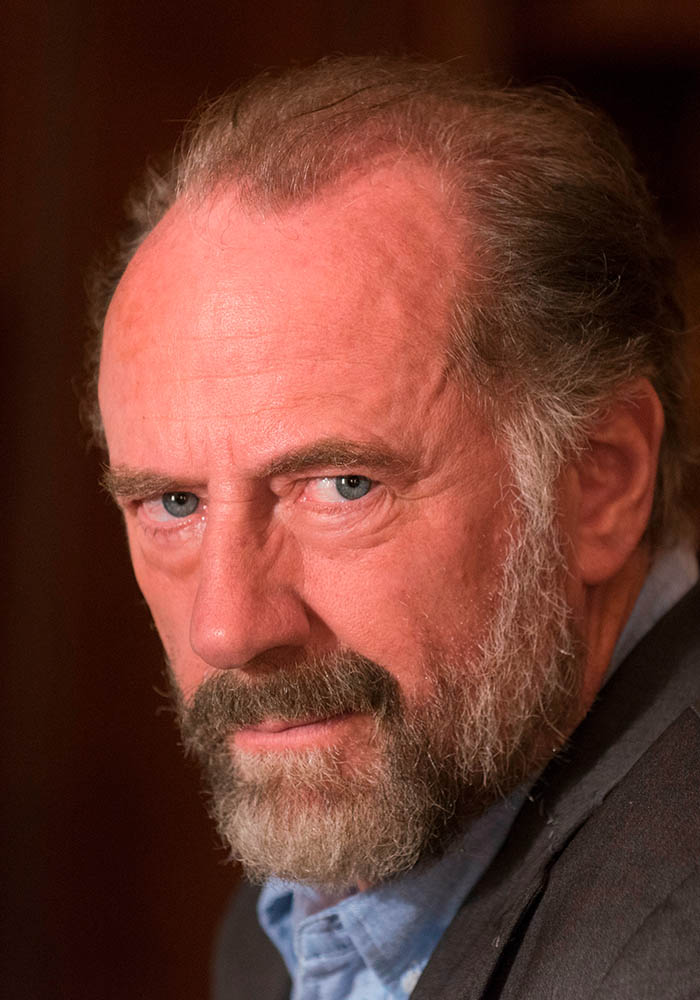 Gregory thought the Saviors were "the small group." He knew they were a threat, but not to what extent. He is comfortable trading one problem for another, taking everything for himself but responsibility. If something does not concern him directly, it does not concern him whatsoever, regardless if it is a concern for his community.

Xander Berkeley made his career debut as Christopher Crawford in the cult classic Mommy Dearest. Following came television guest roles in The Incredible Hulk and M.A.S.H., and then the film, Volunteers, where Berekley was cast as Tom Hanks' college roommate.

An aspiring sculptor and painter, Berkeley developed skills as a make-up man in the theatre as well. It was here the ideas of transformation and character influenced Berkeley as an actor, showing in his portrayal of Bowery Snax, the junkie drug dealer in Sid and Nancy. Berkeley then found another love – independent film. He joined director Alex Cox for two films in one year: Straight to Hell, shot on location in Spain; and Walker, with Ed Harris, shot on location in Nicaragua during the war.

Berkeley then began collaborative relationships with other directors like Mike Figgs, with whom he did Internal Affairs, Leaving Las Vegas, One Night Stand and Timecode. He also appeared in Steven Spielberg's Amistad; William Friedkin's The Gaurdian; Clint Eastwood's The Rookie; Rob Reiner's A Few Good Men; James Cameron's Terminator 2: Judgment Day; Ron Howard's Apollo 13; Wolfgang Peterson's Air Force One; Stephen Frears' The Grifters; Michael Mann's Heat; and countless more.

Berkeley also has a distinct association with nefarious organizations within his television acting credits, such as George Mason, the head of the Counter Terrorist Unit in 24; Percy who created Division on Nikita; Sherriff McAllister on The Mentalist, before revealing he was Red John; Magistrate Hale on Salem; and The Man in The Booth at the End.

Berkeley recently completed work on the independent feature Rene. He then shot recurring roles in the SyFy series 12 Monkeys and the NBC series Aquarius. He can also be seen in the Lionsgate feature film Allegiant, the third installment of the Divergent series, directed by Robert Schwentke, starring Shailene Woodley and Theo James.

He will next be seen in the independent films' The Maestro, directed by Adam Cushman, also starring Sarah Clarke; Shot, directed by Jeremy Kagan; and the short film The Jump, directed by Alex Raiman. His latest film, This Last Lonely Place, executive produced by the estate of Humphrey Bogart, hit theatres Summer 2016.