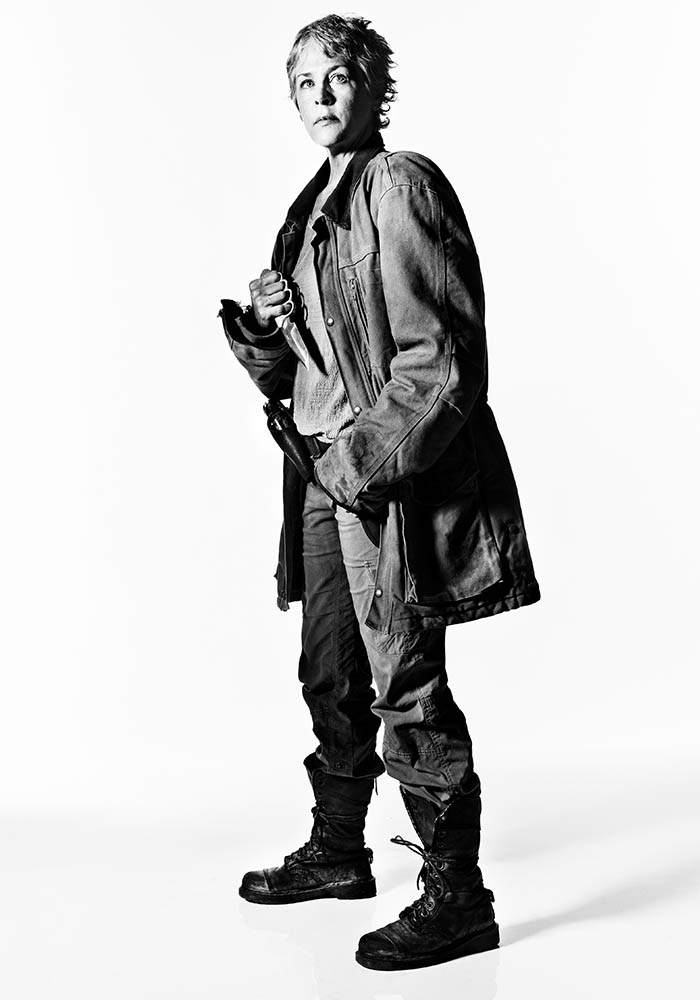 Carol still plays the role of the meek housewife to diffuse tensions in Alexandria. Troubling circumstances around their community will see that facade start to crumble. Although she comes off as cold and unaffected by the violence she's perpetrated, she starts to show how she is profoundly affected by her decisions.

A veteran commercial, voice, and television actress, Melissa McBride began her acting career in Atlanta, Georgia, shortly after graduating college. She made her prime-time network television debut guest starring in Matlock opposite Andy Griffith in a two-part special.

McBride's additional television credits include Dawson's Creek; Walker, Texas Ranger; Profiler; and American Gothic. Her television movie credits include Living Proof, with Harry Connick Jr.; Pirates of Silicon Valley, with Noah Wyle; A Season in Purgatory, based on the book written by Dominick Dunne, with Patrick Dempsey; along with numerous television commercials.

McBride's film credits include The Mist, directed by Frank Darabont; the festival award-winning film Lost Crossing, directed by Eric Blue; and The Dangerous Lives of Altar Boys, directed by Peter Care and produced by Jodie Foster. She was also the voice double for Anne Bancroft in the 2008 animated feature Delgo.

In the music scene, McBride played 'Lucy, the messed-up dressed-up waitress' opposite Martin Sheen in Diamond Rio's music video It's All in Your Head. In addition to her on-camera and voice acting, McBride has worked behind the camera as a commercial casting director.

In 2014, McBride was honored with the Saturn Award for Best Supporting Actress in a Drama Series for her performance as Carol in The Walking Dead episode "The Grove."  This episode also garnered McBride a Critics' Choice Television Awards nomination. This year, McBride's performance as Carol was once again honored with the Saturn Award for Best Supporting Actress in a Television Series.