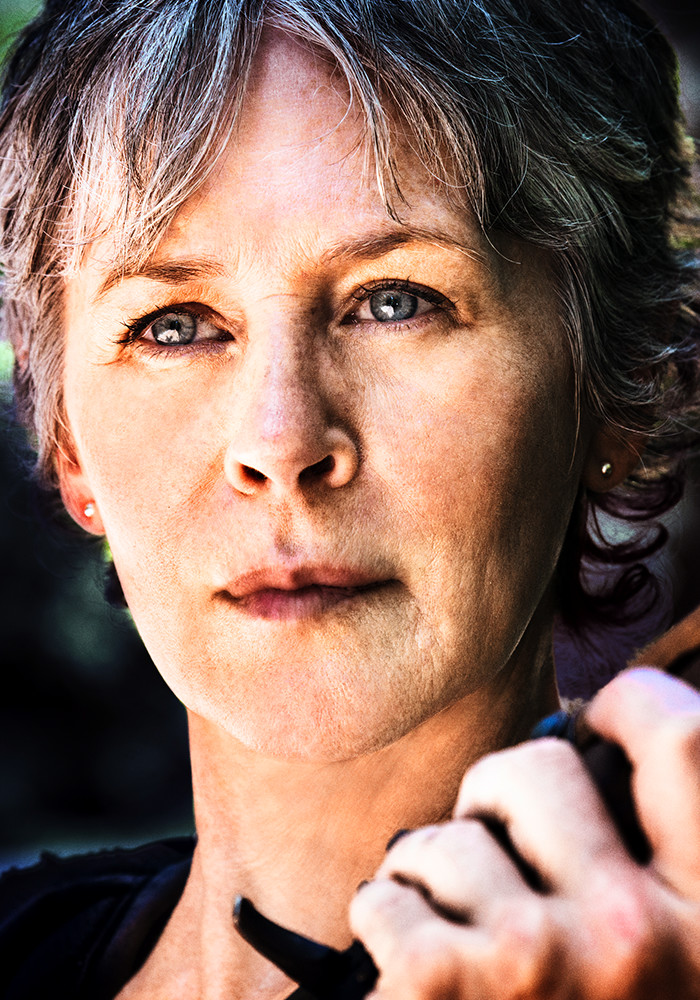 The events of Carol's past are catching up to her soul – her abusive relationship, losing her daughter, burning lives at the prison, killing Lizzie, fighting off the Wolves and Saviors. She cannot keep on her current path of destruction for community survival. She is not suicidal – she instinctively knows when you love someone you must kill for them. If the choice is to kill to be with the group – or not kill and be alone, and if being alone means you die – in her words to Morgan, "please let me go."

A veteran commercial, voice, and television actress, Melissa McBride began her acting career in Atlanta, Georgia, shortly after graduating college. She made her prime-time network television debut guest starring in a two-part special of Matlock, opposite Andy Griffith.

McBride's additional television credits include Dawson's Creek; American Gothic; Profiler; and Walker, Texas Ranger. Her television movie credits include Living Proof, with Harry Connick Jr.; Pirates of Silicon Valley, with Noah Wyle; and A Season in Purgatory, based on the book written by Dominick Dunne, with Patrick Dempsey. McBride has also starred in several commercial spots.

McBride's film credits include The Mist, directed by Frank Darabont; the festival award-winning film Lost Crossing, directed by Eric Blue; and The Dangerous Lives of Altar Boys, directed by Peter Care and produced by Jodie Foster. She was also the voice double for Anne Bancroft in the animated feature Delgo. Next, McBride stars as Krista opposite Janeane Garofalo in the upcoming independent film The Happys, an official selection at the Rhode Island Film Festival.

In the music scene, McBride played Lucy, The Messed-up Dressed-up Waitress opposite Martin Sheen in Diamond Rio's music video It's All in Your Head. In addition to her on-camera and voice acting, McBride has worked behind the camera as a commercial casting director.

For her performance as Carol in The Walking Dead, McBride garnered a Critics' Choice Television Award nomination and three consecutive Saturn Award nominations for Best Supporting Actress in a Drama Series, in which she won twice. McBride also won Entertainment Weekly's EWwy Award for Best Supporting Actress in a Drama.