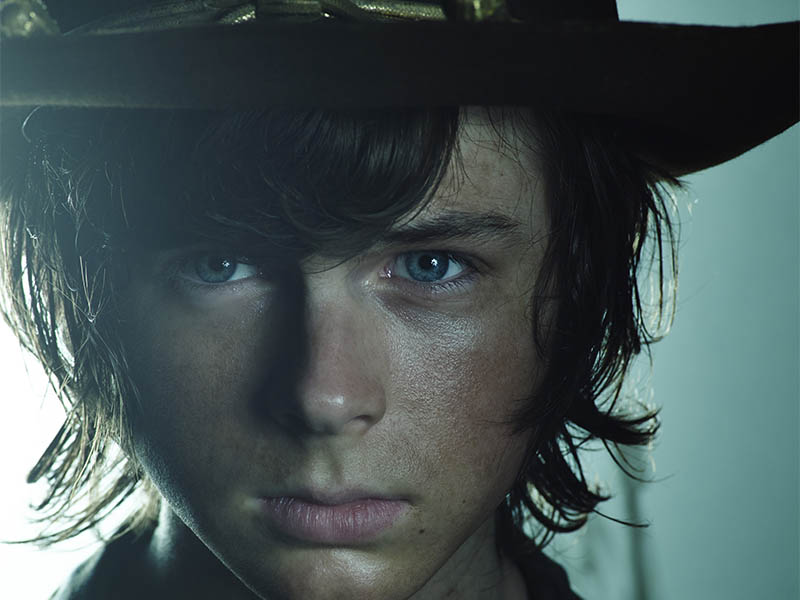 At the outset of the apocalypse, Carl flees his small town with his mom, Lori, and his dad's best friend Shane, who soon becomes a surrogate father to the boy.

Carl worships both Shane and his father Rick, who he believes is indestructible. Carl proves equally resilient after he's accidentally shot while searching for his friend Sophia. Waking up after surgery, Carl remarks to his dad that "I'm like you now," since they've both been shot. "Then you get to wear the hat," Rick replies, giving his son his iconic Stetson.

Carl is a kind boy — inquisitive and intelligent — but struggles to maintain his innocence in the face of unspeakable horror. When Sophia turns up a walker and Rick shoots her, Carl confides to his mother that "I would have done it too."

Over time, Carl insists on handling more and more dangerous responsibilities — much to the chagrin of Rick and Lori, who would prefer he stay away from the front lines. Carl is present when Lori goes into labor during a walker attack. After Maggie performs a C-section on Lori, he sits by his dying mother's side. "You are going to beat this world, I know you will," Lori tells him. After Lori dies, the responsibility for shooting her falls on Carl.

As time goes on, Carl begins to bristle under Rick's authority, seething when Rick insists Carl is too young to help defend the prison against the Governor's attack. While hiding in the woods during the assault, Carl kills a fleeing Woodbury boy. Rick reprimands his son, but Carl insists it was necessary. "You were in a room with the Governor and you let him go," Carl says. "I did what I had to do."

After the incident, Rick forces Carl to give up his gun, and the two make it their duty to cultivate the prison's farm. Carl reluctantly obeys, but when a deadly virus strikes the prison, Rick is forced to re-arm Carl, at one point calling on his son to help him gun down a herd of walkers that breaks through the prison fence.

The survivors eventually bring the virus under control, but it leaves them vulnerable when the Governor attacks the prison once again. In the aftermath of the slaughter, Carl and a severely injured Rick spot Judith's empty car seat filled with blood and presume the worst. Stricken with grief, Carl flees with Rick to an abandoned house.

Rick soon falls unconscious, leaving Carl to singlehandedly defend the house against walkers and scavenge the neighborhood alone. "I don't need you to protect me anymore," he shouts at a still-comatose Rick, bitterly accusing that his father couldn't protect Judith or Hershel. "You just wanted to plant vegetables."

When Rick wakes, Carl fears his father has turned into a walker. "I'm scared," he admits, crying. But Rick is alive, and soon father and son are reunited with Michonne, who's tracked them to the house. Carl continues his friendly rapport with Michonne, and during a supply run learns that she once had a 3-year-old son.

The three are forced to flee the house when it's invaded by a gang of drifters, one of whom Rick kills during their escape. Rick, Carl and Michonne make their way toward Terminus, but are assaulted by the gang en route. The men, led by a man named Joe, vow to rape and murder Michonne and Carl, sending Rick into a blind rage. Carl looks on darkly as Rick tears Joe's throat out and repeatedly stabs the man who tried to rape his son.

The next day, Carl keeps his distance from Rick. Michonne reassures him that there's no need to fear his father. "I'm not afraid of my dad," Carl says. "I wanted him to do it." Carl's real fear, he says, is that he's "just another monster, too."

An Atlanta native, Chandler Riggs began acting at age four. Riggs' early work included local stage productions of The Wizard of Oz and Oklahoma at Atlanta's Fox Theatre. When he was nine years old, he landed his first two film roles simultaneously: The Wronged Man with Julia Ormond and Get Low with Robert Duvall.

Most recently Riggs filmed Blumhouse Productions' supernatural thriller Mercy, with Shirley Knight, Frances O'Connor, Joel Courtney, Mark Duplass, and Dylan McDermott; and Voltage Pictures' Home Invasion with Bella Thorne.

Earlier this year, Riggs won Hollywood's Young Artist Award for Best Performance in a TV Series Comedy or Drama and the Saturn Award for Best Performance by a Younger Actor in a Television Series, both for his role in The Walking Dead.