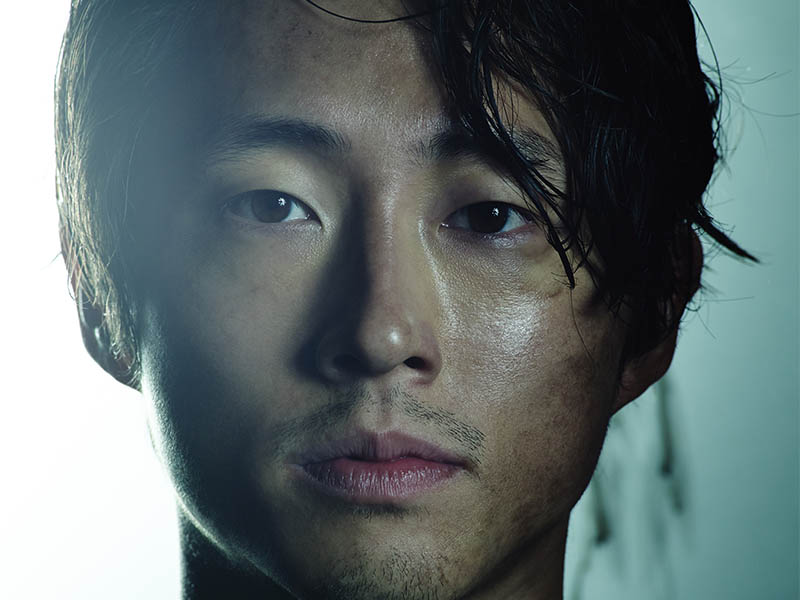 Glenn meets Rick during one of his frequent trips into Atlanta to scavenge supplies. After witnessing Rick being assaulted by walkers, he guides Rick to safety via a handheld radio. "Call it foolish naïve hope," Glenn later explains, "that if I'm ever that far up shit creek, somebody might do the same for me."

Glenn used to deliver pizzas for a living, and his knowledge of shortcuts, his agility and his fearlessness prove extremely useful to the group's scavenging needs. As Rick says when introducing him to Hershel's daughter Maggie, Glenn is "our go-to-town expert."

Maggie begins to accompany Glenn on his supply runs, and a romantic relationship ensues. When the group settles into a nearby prison, Glenn continues to be a valuable asset in protecting their new home against threats and an increasingly devoted partner to Maggie.

Facing the possibility of death in an impending attack from the Governor, Glenn reaches out to Hershel to ask his blessing to marry Maggie. "I know what it takes," he says. Hershel smiles and consents.

After a period of relative calm and happiness, Glenn falls victim to a deadly virus that spreads throughout the prison. He's eventually saved by medication procured from a local veterinary college, but the virus leaves him weakened when the Governor arrives and attacks once more. Maggie puts Glenn on a bus to send him to safety, but Glenn gets off to chase after her and is knocked unconscious.

Glenn awakens after the battle amid rubble and walkers. He teams up with Tara, a woman from the Governor's camp, to look for Maggie. On the road, they encounter Sgt. Abraham Ford, Dr. Eugene Porter and Rosita Espinosa, who are on a mission to get Eugene — who purports to know how the walker virus occurred — to Washington, D.C. Abraham asks Glenn to come along, but Glenn is steadfast in his mission to find Maggie.

Glenn's determination pays off when the group spots a sign from Maggie telling Glenn to meet her at Terminus. Glenn insists on pushing forward, even when the group is confronted with a walker-filled tunnel, which prompts Abraham to abandon them. Glenn and Tara nearly die in the tunnel, but are saved at the last minute by Maggie, Bob and Sasha — who team up with Abraham's group for the extraction.

After a tearful reunion, Maggie jokingly chides Glenn for convincing Abraham to "hold off saving the world while you go off to find your wife."

"I'm a persuasive guy," Glenn shrugs.

Maggie then burns a picture Glenn had kept of her through his travels. "You don't need a picture of me any more," she promises. "You never will again."

On the big screen, Steven Yeun stars opposite Michael Pitt, Brit Marling, and Astrid Bergès-Frisbey in Mike Cahill's independent sci-fi drama I Origins. The film premiered at the 2014 Sundance Film Festival, where it earned raves and was sold in one of the biggest deals at the festival. Fox Searchlight released the film this past July.

Upcoming, Yeun will star in and executive produce The Aquariums of Pyongyang, the film adaptation of Kang Chol Hwan's autobiography. Hwan was the first survivor to escape from one of the brutal North Korean concentration camps, documenting the extreme conditions in these gulags and providing a personal insight into life in North Korea.

Yeun has a number of theater credits, including the Steppenwolf Theatre's production of Kafka on the Shore where he understudied the roles of Kafka and Crow. Yeun's television credits include appearances on The Big Bang Theory, Law & Order: Los Angeles, Warehouse 13, and NTSF:SD:SUV. He has also lent his vocal talents to the Nickelodeon animated series The Legend of Korra.

Born in Seoul, South Korea, and raised in the city of Troy, Michigan, Yeun began his foray into acting while studying psychology at Kalamazoo College in Kalamazoo, MI. After seeing a performance of the school's improv group, he decided to switch his focus to acting. Following graduation, Yeun moved to Chicago, where he performed with the famed Second City Theatre comedy troupe in various shows with their Touring Company. He has been a part of several improvisational/sketch comedy groups, including Stir Friday Night, Hands, and Detective Detective.