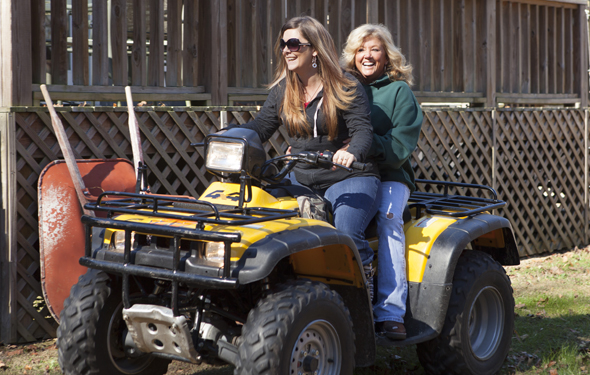 Lambchop's Last Bite, Episode 3
Lambchop's Last Bite
The crew has a muddy gig; Irwin gives his time to rough young ladies.
Show Full Recap
Full Recap
Dennis has found JJK a new piece of business: providing security for a mud-bogging event (where participants ride trucks through the mud). Christa, who rides four-wheelers regularly with her mother, plans to enter the contest. At the event, the JJK team is disappointed with the size of the crowd and the only security issue they encounter is a rogue mouse. When it comes to Christa's turn, she gets stuck in the mud and removed by a bulldozer.
Meanwhile, Lambchop is very ill. A distraught Joan asks Dennis to take Lambchop to the vet to put her down while Irwin and Joan go off the grid for a while. Later, Irwin skips practice with the women's roller derby team he's coaching to help Joan to find a new dog. They meet and adopt a dog named Charlotte. At the Koplan house, the JJK team gathers to say goodbye to Lambchop and eat her favorite food: burgers. Finally, in an attempt to lighten their loads, they attend a roller derby match, with a barking Charlotte in tow.