Q&A
Ride with Norman Reedus Q&A — Cody Bradford and Chivous Downey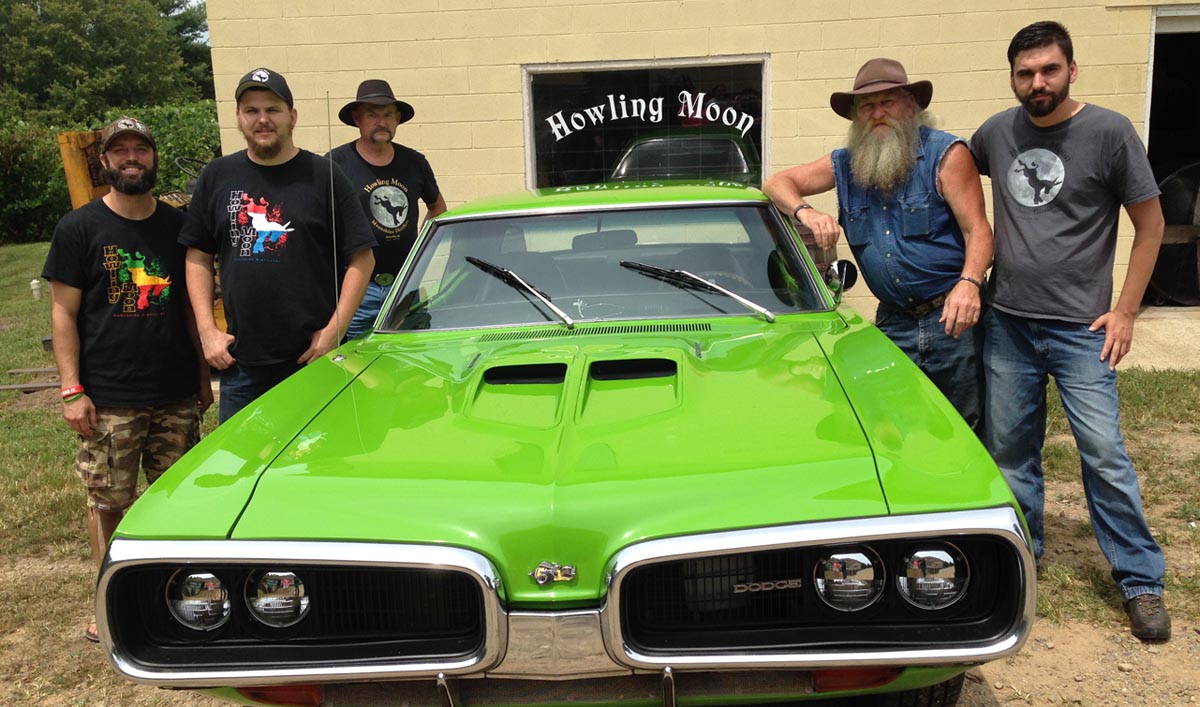 Chivous Downey and Cody Bradford (pictured above far left and second from left, respectively), the moonshiners featured in Episode 3, talk about how they came up with the name for Howling Moon Distillery, their authentic process and how they honor tradition.
Q: Howling Moon has been a family company for a long time. What's the history behind the business?
Cody Bradford: I've got documents of my sixth great-grandfather making it in 1866. He was paying taxes and making brandy in 1866. At the same time, I had about four other great-great-grandparents making it as well. It's come down through my family like that, through every generation, until now. My dad made it as well.
Chivous Downey: I haven't traced my family back as far as Cody has, but I know for a fact that I'm at least a second- or third-generation moonshiner, and it probably could be traced back a little further. We're the first of either of our families to go legal, and we did that back in 2010 when they changed the law. We've been trying to grow from there.
Q: How has the legalization of moonshining helped or hurt the business?
CB: Unfortunately, there's a lot of people who have gotten on board, and they're selling stuff they're calling moonshine that's not really moonshine. It's taken a lot of time to sift through, but a lot of those businesses are not doing so good. We're thriving and we've grown. We've got an authentic product and it shows. We were on [Discovery's] Moonshiners,  and we just filmed with ESPN for Monday Night Football back in November. We've gotten a lot of attention — none that we really asked for — and it's a big shock to us.
Q: What else sets your product apart? What can you tell us about your unique process?
CD: One thing that we do differently is we use pre-prohibition distilling technologies. The yields are different, the flavors are different and pretty much everything about it becomes different. A lot of these new moonshines are really single-distilled vodkas if you look into it.
CB: We run our still through a thump keg, which is a wooden oak barrel. That double distills and filters the liquor. The actual liquor goes through the barrel and comes out the other side. That definitely changes the flavor. We've tried it without it, and it doesn't taste the same.
Q: Speaking of the distilling process, Norman Reedus and Jason Paul Michaels were amazed at the smell of the mash room. What does that room smell and feel like?
CB: We keep it cool, and it has a corn and green apple smell. When corn ferments, it sets off a green apple smell. There's a strong, pungent alcohol smell as well, but it's also got a sweet smell to it. It will make your eyes water.
CD: It'll take your breath away.
CB: It will literally take your breath away! Sometimes you've got to step outside for a breath of fresh air.
Q: Norman seemed intrigued by that big rock on the still. What does it actually do? 
CB: We make moonshine the same way it's been made for hundreds of years around here. That rock is to keep the cap from blowing off.
CD: There's so much pressure in those stills and with the old technology, they're not put together as well as some of these newer stills are. It could very easily blow up if you're not real careful. We seal it up with rye paste like they used to do throughout history to keep the steam from leaking out from the joint.
Q: Is there any danger involved in the process if things don't go exactly right?
CD: If you're careful, you'll be safe doing it. But there's a possibility you might not be as safe as you were hoping!
Q: You sell several different flavors. How do you decide on which types to make?
CD: Traditionally, people would grow their fruit, and whatever they couldn't eat or preserve any other way, they would use it to make liquor and sell it to try to survive. We use all natural fruit and no artificial flavors. We do it the old way. A lot of times, we try some things out and see if our family members like it, and that might influence our decision making. We're also very particular and we want the best ingredients.
CB: We've got a huge list of flavors already approved by the government to put out, and it's just a matter of production. We always talk about the next flavor we want to put out. We also try to stay local. Our apples are grown just a few miles down the road, our corn is grown about an hour from where we live, the peaches come from South Carolina, and I go pick them up myself. We are very small and we built this with very little money.
Q: How much time goes into making your product? Is it hard to keep up with the demand?
CB: We've always got a lot more demand. We can do more, but we don't mass produce. We started out with 25 gallon stills and we've got big stills now — anywhere from 250 to 1,000 gallons. We've had to figure out how to keep the quality of it. It takes about two weeks from the time we start to the time we distill it to bottle it. For the flavors, it takes almost two months. We age the fruit in the liquor.
Q: Did you get to witness Norman and Jason's reaction to your moonshine?
CD: They were riding, so they didn't drink, but we did make sure they had something to throw in their saddle bag. It's 150 proof and it doesn't take very much.
Q: How did you settle on the name Howling Moon?
CB: My mom and dad were on a date and they were riding horses and the last thing she remembered was falling off the horse and howling at the moon. They were drunk as sh–! [Laughs]
Q: What do you hope people take away after learning about your business on the show?
CB: We just want people to see how we make it authentically. This is handmade, real moonshine.
CD: We want to keep our families' tradition alive. The vibe that we bring to the scene, the uplifting feeling that people get when they drink our moonshine…that's why we do it. That's what moonshine is all about — not getting all drunk and sloppy.
Read an interview with Jason Paul Michaels.
Ride With Norman Reedus airs Sundays at 10/9c. Sign up for the Ride With Norman Reedus Insiders Club to get the latest exclusives delivered directly to your inbox.
Read More