Uncategorized
The Mad Men Fashion File – Family Ties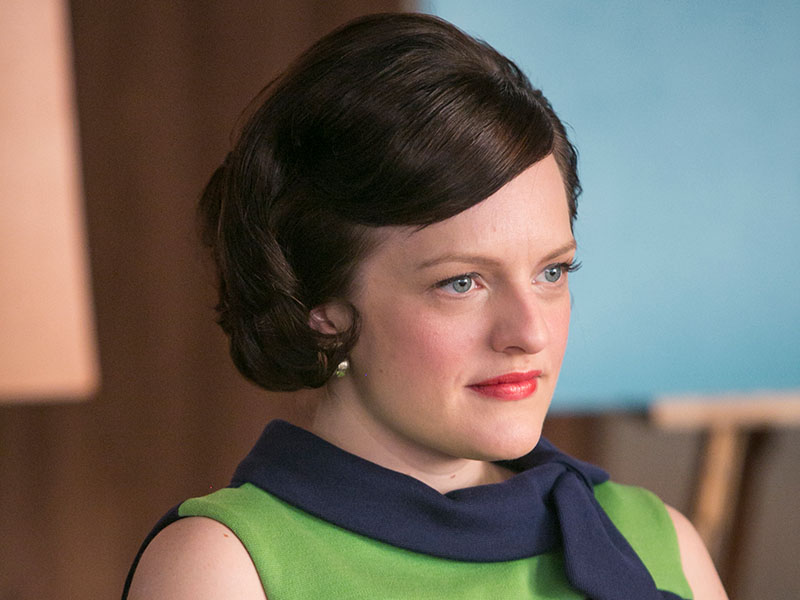 There are very few guarantees in Mad Men, but here's one: As the social fabric of the '60s changes and twists, the actual fabric of the costumes does, too.  In this episode we have Sally admiring Betty, Peggy revealing a major crack in her armor, and Joan becoming a true part of the SC&P boardroom, all through small changes in their wardrobe. And Don? Well, that's the thing about being the center of a universe: The world revolves around you, but that means you have to stay still (and so do your sharp gray suits).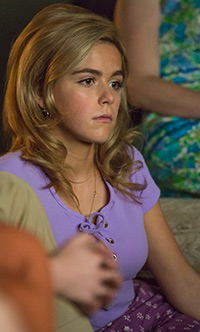 Judging from Twitter, everyone was pretty excited about Sally's transformation into Lifeguard Barbie. It's pretty significant that Mad Men Costume Designer Janie Bryant started Sally in a plaid shirt (Don's traditional at-home print) and then "graduated" her to a violet top and floral-print miniskirt that echoed the purple flowers on Betty's summer dress. I thought it was really interesting that Sally's hair was styled like her mother's, and not like Colleen Corby, who was Seventeen magazine's in-house model at the time. (There's an entire Pinterest board for the magazine's 1969 issues, by the way, and the fashion is amazing.) But maybe it's not so surprising that Sally's going for a Betty vibe when trying to attract male attention — she's seen her mom do it quite successfully. Sally's also being schooled at Miss Porter's, a suburban Connecticut enclave of all things preppy and posh, and the influence of Jackie O's alma mater is certainly showing. Lily Pulitzer attended, too, which reflects nicely in Betty's bright floral dress during the moon landing — and in Peggy's bathrobe, a wannabe version of the rich-mom staple.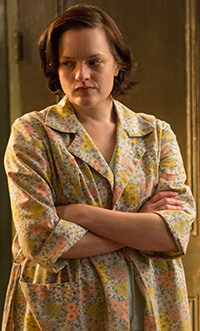 Speaking of Peggy and her moments of housewife envy, did you catch the sweet call-and-response of her costumes to Julio's? He wears orange stripes; she wears orange stripes. He cries to Peggy about his mother while wearing blue and green stripes; Peggy talks to Burger Chef about the new American family in blue and green stripes. Also, Julio asks Peggy for a Popsicle, a throwback to Peggy's "Take it. Break it. Share it. Love it." pitch and also to the child on the porch of Don's childhood home holding a similar frozen treat in the Season 6 finale. All three boys wear bright stripes: In the Mad Men world, they sport stripes on their shirts, and then when they grow up into men (or big boys, as they sometimes behave), they wear the stripes diagonally on their ties. It's sweet. It's sad.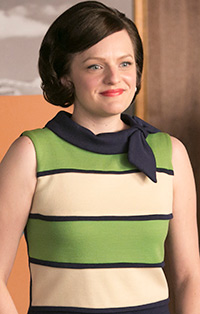 Also sad, but somehow kind of funny: Megan ending her marriage via telephone, perched on her Laurel Canyon porch in a bikini. She's wearing three giant rings on her right hand; her left hand — where her engagement and wedding rings would be — remains hidden throughout the scene, as does her divine platinum manicure.
Then there are things that are just plain funny: Meredith's giant blue bric-a-brac trim and massive daisy brooch and earrings, the candy-colored secretaries that surround Cooper during his glorious final exit, how Harry Crane's pale blue blazer looks like pajamas and, of course, Bobby Draper's COUGARS t-shirt.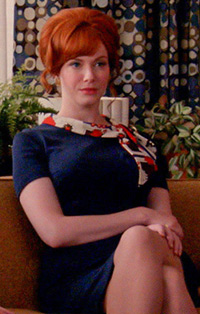 Expect to see copies all over the internet (and in every hipster dive bar you can find) within a few weeks.
Finally, we close out the mid-season finale with a return to Season 7's most prevalent color story: Red, white, and blue. In a costume incorporating all three American-flag colors, Joan looks like more of a partner than rumpled Ted Chaough while discussing the proposed merger. Don, Roger, Peggy, Cooper, and Sally's costumes also weave into the American Dream theme, but what's the state of their union? We'll have to wait to find out.
Read More