Uncategorized
Q&A – Christina Hendricks (Joan Harris)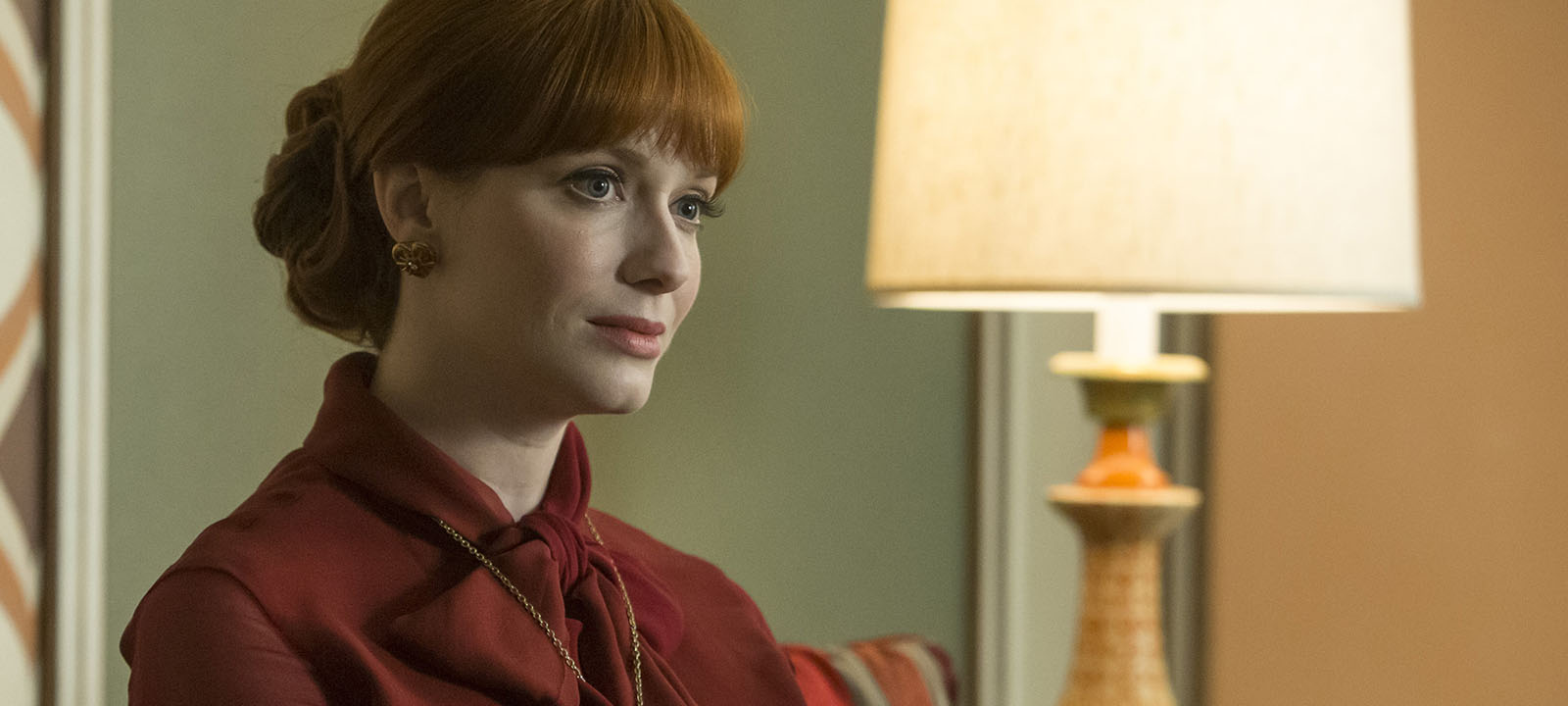 Christina Hendricks, who plays Joan Harris on AMC's Mad Men, talks about Bob Benson's short shorts and the scene that best sums up her character.
Q: Is there a Joan line or scene that you feel like best sums up her character?
A: I think a scene that sums up where Joan is at now is that beautiful tableau in the Season 6 Finale when they all move out of the offices upstairs, and it's all the partners looking out on the horizon. She's standing there with the big boys in the middle of all of them, and she's standing where she should be.
Q: Once, Joan might have been seen as a traditionalist, but she's used some highly nontraditional methods to advance her career. Are you still surprised by any decisions the character makes?
A: Not really, and I'd been given advance warning about the [Jaguar] storyline about two years before, so I wasn't surprised. I'm not really surprised when anyone does anything. It takes a lot to shock me. [Laughs] To me, it's very human and very real to make difficult choices.
Q: Whose story line besides your own are you most looking forward to knowing the resolution of?
A: I think Roger is going through something you would have never have guessed from knowing him in Season 1. He's made a real change, and we're seeing a whole new side of him.
Q: If you could keep something from the set of Mad Men, what would it be?
A: I put in my request to keep a couple of things from Joan's apartment. There's a mosaic tile Asian landscape that hangs on her living room wall, and there's a little cocktail serving tray in her kitchen that's always been on the top of her refrigerator. So I put in my request in a professional way. I said, "I would like keep these things at the end of the show, but if not I'm going to steal them."  [Laughs]
Q: Is there an outfit that you'd most want to keep?
A: My favorite outfit that Joan's ever worn is also on the Joan Barbie Doll. It's a little purple dress with a fuchsia satin bow at the neck, and it has a sort of pleated fishtail in the back. It is the most divine dress. I'm in love with it. I wore it in a couple of seasons. I wore it in Season 1 and then I wore it again in Season 3.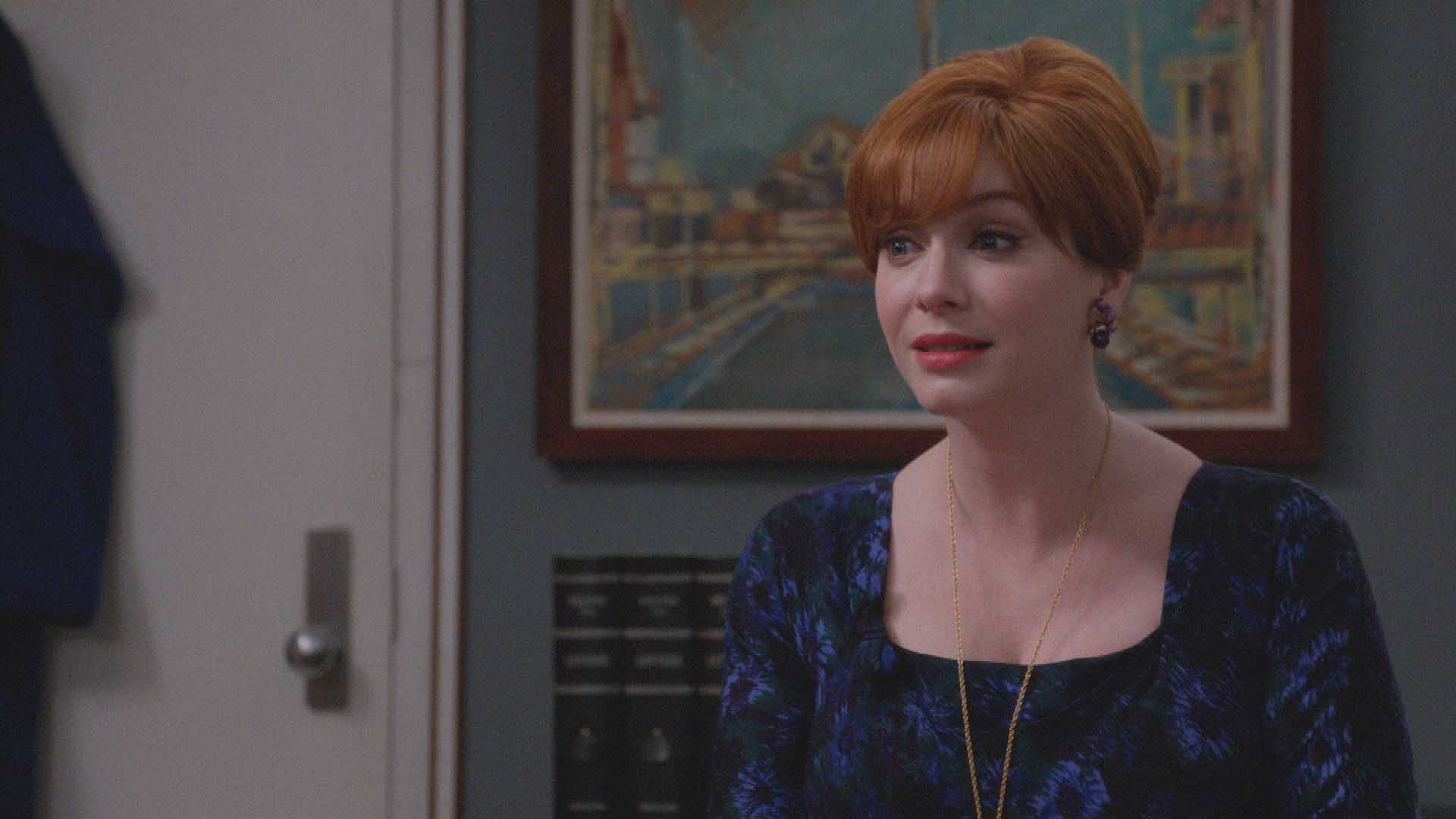 Q: A lot of attention gets paid to the women's outfits on the show, but last season everyone was talking about Bob Benson's shorts in Season 6, Episode 9. Did you ever think during the filming that his outfit was going to be such a scene stealer?
A: Yeah! When we were shooting I was like, "I can't even look at you. Your shorts are so short, I'm embarrassed!" The whole time I was like, "Your shorts are ridiculous!"
Q: Joan has changed so much over the last few years. What is one quality about her that you feel has always remained the same?
A: I think she's an ever-changing, ever-growing woman, but I think the consistency is that she's resilient and strong. That's why I love playing her, and I think that's why the audience responds to her so well — because she holds her own and she always bounces back.
Q: When you think back to Season 1, what comes to mind?
A: I remember the table read and us going out and having dinner afterward, and I remember the first day of work. I remember starting the show and being on set, and I remember Episode 5, which is my first episode that Joan had a really big story line. It's very vivid to me, all of it. It's like in Technicolor. It's just a really happy time.
Click here to read an interview with John Slattery, who plays Roger Sterling on AMC's Mad Men.
Read More