Hot Topic – Maddicts Share Excitement About Start of Awards Season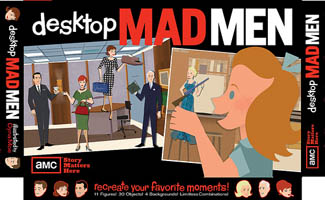 AMCtv.com awards the Talk forum and blog commenters quoted in our weekly "Hot Topics" post with prizes like a Mad Men desktop or a Mad Men snow globe (limit one per person).
Mad Men's early awards season nominations (Golden Globes, SAG, Writers Guild) brought out many a happy Maddict. Here's what you were saying after nominations were announced last week.
• "Thrilled for Jon and January, they are magic together,the chemistry between them is electric whether they are fighting or loving.." — irish cath
• "I have watched season 1 & 2 the last 10 days on my laptop… Wonderful acting, character development and themes presented. I love January Jones; now I know what all the fuss was about." — ardellefly
• "congrats MM – it is great to ring in the New Year with such accolades" — j9mac
Log onto the Talk forum to join in this conversation or start a Mad Men topic of your own. As always, your comments throughout the blog are welcome.
Read More