1960s Handbook
1960s Handbook – Vibrating Hand Massager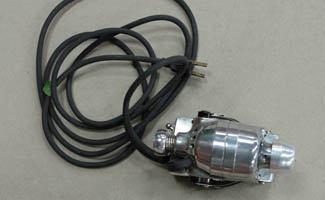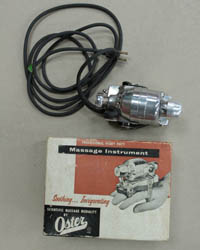 Got a case of the D.E.D.s (or the "Day's End Drag")? In the '60s, manufacturer Oster offered a Stim-U-Lax vibrating hand massager as the cure for just such work-a-day blues. The electronic device — strapped on the user's hand — turned each finger into a palpitating pleasure pusher.
Now, before you get any dirty ideas, keep in mind that the device — introduced in 1902; widely marketed by 1933 — was developed for the hair-care industry. In addition to curing D.E.D.s, the Stim-U-Lax also claimed to stimulate hair growth and during its heyday in the '50s and '60s was a de rigueur piece of equipment for every barber worth his salt.
Around this time of its peak in popularity, the city of Racine, Wisconsin had over twenty manufacturing companies producing units as magazines urged women to "Hold It!" and experience the "soothing, tingling effects of a real Swedish-type massage." Nowadays, the vibrating hand massagers are primarily sold as retro novelties.
Read More