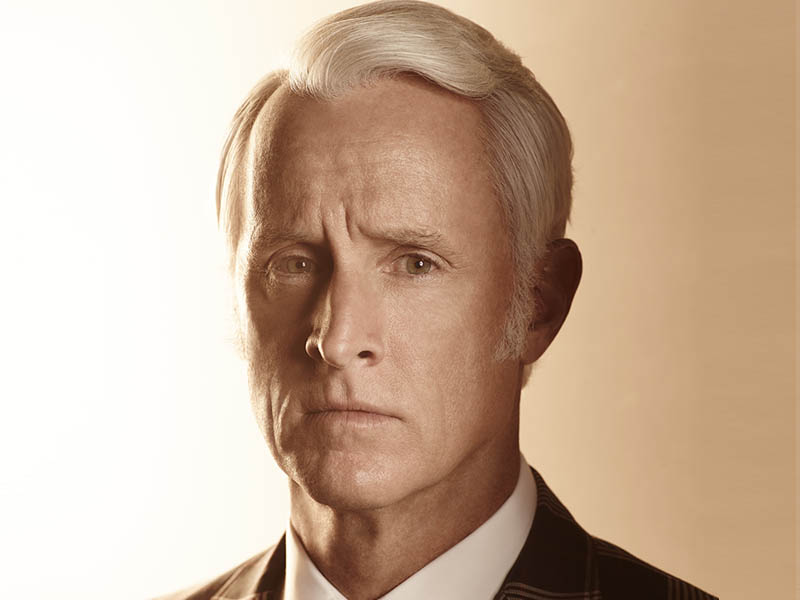 Roger wasn't just born with a silver spoon in his mouth – he was born with his name on an advertising agency. Although his inheritance and charm allows him an easygoing lifestyle, Roger discovers ambition. He helps found the new SCDP agency to have a place with his own name – rather than his father's – and fights to regain control of his agency after the merger with CGC. After two divorces, Roger seeks enlightenment by embracing the relaxed sexual norms and mind-expanding drug culture of the '60s, but he feels like a failure when his daughter abandons her own child to live on a commune. Roger tries to correct his mistakes with both his grandson and the son he shares with Joan. When Cooper dies, Roger brokers a deal with McCann Erickson to ensure his place as president of the agency, but perhaps more importantly, to allow him to continue working with the people he values.

John Slattery has received four Emmy® Award nominations for Best Supporting Actor in a Drama Series for his portrayal of Roger Sterling on Mad Men.

As a director, Slattery has directed five episodes of Mad Men and recently helmed his first feature, God's Pocket, based on the Pete Dexter novel from a script he adapted with Alex Metcalf. The film, which Slattery also co-wrote, stars the late Philip Seymour Hoffman, Richard Jenkins, Christina Hendricks, and John Turturro. God's Pocket was released in the U.S. in May of 2014 by IFC Films after premiering at the 2014 Sundance Film Festival.

Slattery recently finished filming parts in Ted 2, and Antman, and Tom McCarthy's new feature film, Spotlight opposite Mark Ruffalo, Michael Keaton, and Rachel McAdams.

Slattery's previous film credits include Bluebird, which premiered at the 2013 Tribeca Film Festival; the blockbuster Iron Man 2; Universal's The Adjustment Bureau; Clint Eastwood's Flags of our Fathers; Mike Nichols' Charlie Wilson's War; Terry George's Reservation Road; Mike Newell's Mona Lisa's Smile; Thomas McCarthy's The Station Agent; Joel Schumacher's Bad Company; Steven Soderbergh's Traffic; and Brian Savelson's In Our Nature.

Slattery is instantly recognizable from his numerous roles on television over the years, including Desperate Housewives and the hit series Arrested Development. Other TV credits include Homefront, Ed, HBO's K Street, and the drama Jack & Bobby. He has also been seen in highly memorable guest appearances on Sex and the City, Will & Grace, Judging Amy, and 30 Rock.

In theater, Slattery has appeared on Broadway in the Pulitzer Prize–winning Rabbit Hole, for which he was nominated for a Drama League Award; the Broadway revival of Betrayal; and opposite Nathan Lane in Neil Simon's Laughter on the 23rd Floor. His off-Broadway credits include the original production of Three Days of Rain, which earned him the LA Drama Critics Award and a Drama Desk nomination.

Slattery is a Boston native who currently resides in New York City with his wife and son.
Roger Sterling Quotes
Garcon! Je m'appelle Rojaire. Je suis un taxi, s'il vous plait!

EP 406 "Waldorf Stories"
We can solve this problem with a flask.

EP 407 "The Suitcase"
I'm going to go to my favorite restaurant and have a glass of cyanide, or you could join me.

EP 409 "The Beautiful Girls"
I could tell I was rubbing you the wrong way so I thought, why not have someone rub you the right way?

EP 409 "The Beautiful Girls"
I've got to go learn a bunch of people's names before I fire them.

EP 412 "Blowing Smoke"
Look, I want to tell you something because you're very dear to me, and I hope you understand it comes from the bottom of my damaged, damaged heart: you are the finest piece of ass I ever had, and I don't care who knows it. I am so glad I got to roam those hillsides.

EP 111 "Indian Summer"
Can I just fire everyone?

EP 202 "Flight 1"
Don't you love the chase? Sometimes it doesn't work out; those are the stakes. But when it does work out, it's like having that first cigarette: your head gets all dizzy, your heart pounds, your knees go weak. Remember that? Old business is just old business.

EP 204 "Three Sundays"
I'll tell you the same thing I told my daughter: if you put a penny in a jar every time you make love in the first year of marriage, and then you take a penny out of the jar every time you make love in the second year, you know what you have? A jar full of pennies.

EP 205 "The New Girl"
Do you want to be right, or do you want to be married?