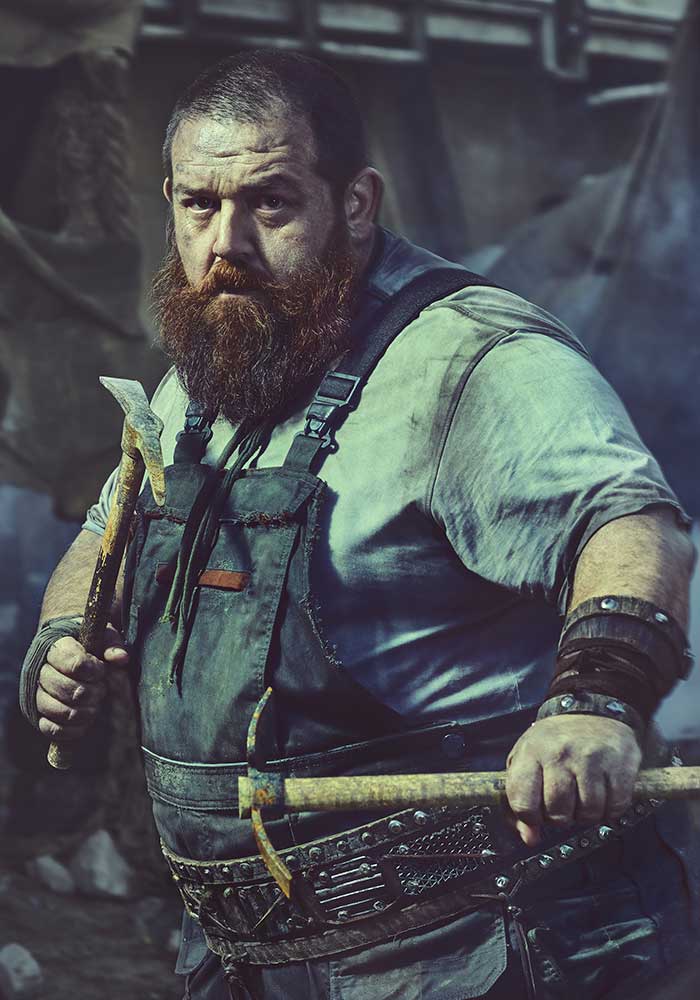 With questionable morals and an eye for finding the next quick score, Bajie is as irreverent as he is opportunistic. Sunny finds an unlikely ally in Bajie while shackled to him in a mining prison. However, through the course of the season, Sunny will discover that Bajie harbors secrets of his own. Nothing is at it seems in the Badlands.

Nick Frost first came to prominence as the gun-mad character Mike Watt in the award-winning Channel 4 sitcom Spaced. Since then, Frost has become one of the UK's most sought-after actors. He earned a nomination for Most Promising Newcomer from the British Independent Film Awards for his role in the cult zombie movie Shaun of the Dead, starring opposite Simon Pegg. Frost again starred with Pegg in the hugely successful hit comedy Hot Fuzz and the 2013 The World's End, completing what Simon Pegg and Edgar Wright refer to as "The Blood and Ice Cream Trilogy." Frost also teamed up with Pegg in 2011 to write and star in Paul, which debuted at the top of the UK box office and went on to become an international box office smash.

In film, Frost's other credits include Richard Curtis's The Boat That Rocked, for Working Title and Focus Features; Julian Jarrold's Kinky Boots; Nick Moore's Wild Child, and Joe Cornish's award-winning Attack the Block. Frost also appeared as one-half of Hergé's beloved detectives Thomson & Thompson in Steven Spielberg and Peter Jackson's epic motion-capture feature, The Adventures of Tintin: The Secret of the Unicorn.

Frost lent his voice to the fourth installment of the Ice Age franchise, Ice Age: Continental Drift and the BAFTA-nominated The Boxtrolls. He also starred as Nion, one of the seven dwarves in Rupert Sanders' blockbuster Snow White and the Huntsman, as well as its 2016 sequel, The Huntsman: Winter's War. In 2014, Frost starred in and served as executive producer on the feature film Cuban Fury.

In television, Frost demonstrated his acting credentials in the BBC's adaptation of Martin Amis's best seller Money, directed by Jeremy Lovering. His lead performance garnered acclaim from critics and the author alike. He has also appeared in the Channel 4 sitcom Black Books with Dylan Moran and Bill Bailey, and hosted the Channel 5 series Danger! 50,000 Volts! Danger! 50,000 Zombies! Frost was the lead role in Hyperdrive, a sci-fi comedy series for BBC Two, and starred in two seasons of the BBC sketch-comedy series, Man Stroke Woman.

Additional television credits include Sky Atlantic HD's six-episode comedy series, Mr Sloane, from writer/director Robert B. Weide; and a guest-starring role in BBC's Dr. Who Christmas Special, as "badass Santa," opposite Peter Capaldi and Jenna Coleman. Drawing 6.4 million viewers, the show received much acclaim, with Frost's role in particular acquiring heavy praise. The Independent stated: "The aptly-named Nick Frost gives a fantastic performance as a straight-talking, salt-of-the-Earth Santa Claus tonight."

In 2015, Frost released the highly anticipated, hilarious and touching memoir, Truths, Half Truths and Little White Lies. Published by Hodder & Stoughton, Frost's autobiography is written in vivid prose and details his difficult early family life, which was blighted by illness and sudden misfortune, resulting in the Frosts losing everything overnight.

He will next be seen in Sky Atlantic's TV series Sick Note, alongside Rupert Grint and Don Johnson in early 2017. He will also star in ABC's single-camera comedy The Finger, written by Ben Karlin, as Nick Ferguson a.k.a. "The Finger," the world's most famous jewel thief.