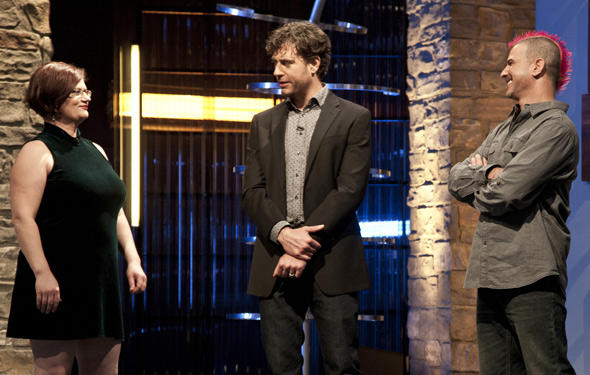 Season 1, Episode 4
Your Worst Nightmare
Immortalizer Dave Houser battles challenger Cat Grey with the theme "Your Worst Nightmare."
Show Full Recap
Full Recap
Theme: Your Worst Nightmare
Immortalizer: Dave Houser
A three-term President of the Pennsylvania Taxidermy Association known for his signature mohawk, Dave Houser has more than 50 first-place ribbons to his name, including the coveted Governor's Award. The self-taught traditional taxidermist specializes in waterfowl and game birds, and competes in the Masters division in both categories.
Challenger: Cat Grey
Tacoma-based rogue taxidermist Cat Grey dubs herself a "creative, morbid, evil genius." A firm believer in recycling, particularly animal parts, she often works with roadkill and founded the International Society of Animal Recyclers (ISOAR). Grey is looking forward to pitting her creativity against a trained competitive taxidermist.
The Competition:
Immortalizer Houser's art is based on his own worst nightmare of "losing your freedom." Aiming for a piece that "is more intimidating to think about than it is to look at," his creation features a bald eagle (made from a Canadian goose, turkey and chicken feathers) atop 9-11 memorabilia. Judge Brian Posehn and Catherine Coan appreciate Houser's explanation of the piece, and Coan admires the time it took to recreate the bird feather by feather.
Challenger Grey combines traditional animal parts from cows, deer and goats, creating a giant spider-like creature designed to elicit fear from which "nobody escapes." Using a horse skull, the piece will also be a visual pun: "A literal night-mare." The creature, topped by a saddle, inspires a "Wow," from Judge Coan, who also admires its "dark beauty." Judge Posehn thinks "the eyes peeking out of all these places is really terrifying."