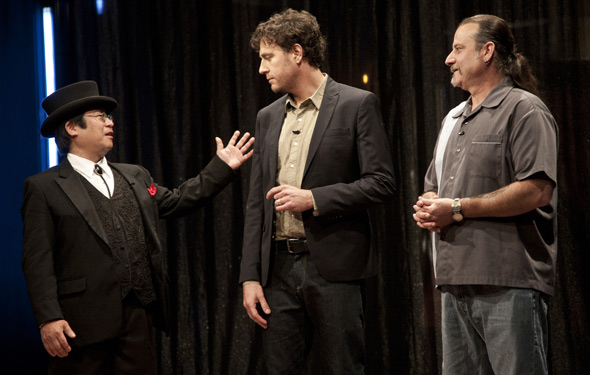 Season 1, Episode 3
The Odyssey
Immortalizer Takeshi Yamada faces off against challenger Mike "Mac" McCullough with the theme "The Odyssey."
Show Full Recap
Full Recap
Theme: The Odyssey
Immortalizer: Takeshi Yamada
Born in Japan, Yamada started collecting natural specimens at a young age, transforming his bedroom into a "Cabinet of Curiosities." Currently residing in New York, Yamada is often seen with his most prized accessory, Seara. The half rabbit, half duck with a seal's tail is an ode to Coney Island, whose original Dutch name translates to "Rabbit Island."
Challenger: Mike "Mac" McCullough
This Pennsylvania native has been working for 32 years and considers himself "kind of like the outlaw in the taxidermy business." His work started out in the Traditional style, but over the years he's become "more of an artist." McCullough has mounted everything from hamsters to hippopotamuses.
The Competition:
Focusing on the mythological, Immortalizer Yamada creates an otherworldly creature: a goat's body topped by five, horned fox-heads, each with a giraffe-like neck. Yamada says the piece symbolizes his triumph over "the five-headed monster of life" after his studio was destroyed in Hurricane Sandy. Judge Catherine Coan appreciates that Takeshi has incorporated his personal mythology into the greater story.
Challenger McCullough draws his inspiration from Homer's epic poem. His artwork, entitled "The Quest," takes a fresh look at the city of Troy -- now underwater and peopled by fish and a human diver. Judge Coan commends McCullough for the "fluidity" of his execution and overall color, while Judge Paul Rhymer appreciates the challenger's modern, ambitious take on a classical theme.