Uncategorized
Q&A – James Shanklin (Aaron Hatch)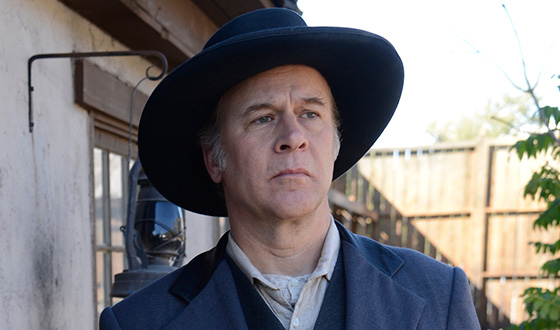 James Shanklin, who plays Aaron Hatch on AMC's Hell on Wheels talks about trending on Twitter and the realities of life in the 1860s.
Q: You've had a number of soap opera roles. How does shooting a Western compare? 
A: Soap opera is actually one of the hardest things I've had to do because – and I'm not going to be popular for saying this – but the writing is not very good. [Laughs] A lot of people probably know that. The fact that it's not very good makes it extremely difficult to memorize.
When you have good writing – and on Hell on Wheels, it's some of the best writing I've ever worked with – it's such a joy to work on and learn the lines. When you do something that is period, from the past, from our history, there's so much more at stake. It was life or death just to wake up and start your day with these people. The characters are just so rich, and what kid would not want to be in a gun fight in the Old West?
Q: You also have several "doctor" credits. How much do you know about medicine from the Old West?
A: Just that about everything was pretty painful. When you got injured, it was a major life-changing event back then. Life expectancy wasn't very long.
Q: How much were you told about your character's storyline this season?
A: They had told me that I would be reoccurring later on in the season, but I had no idea how I would come back or what the story was going to be. When I received the script, I had no idea what Aaron Hatch was going to be doing, so when I read about the rough riders and the shootout, I was like, "This is going to be so fun!"
Q: You originated a hashtag on Twitter, #WorldsWorstTVDad. How did that come about?
A: [Laughs] I started it as a joke and it just took off. People just loved it and loved referring to me as that. I actually thought it was pretty accurate.
You know what's funny? When I first got back to Calgary to do the last two episodes of the season, I went for a ride by the Hatch homestead and I noticed the grass had grown up around the house. So I emailed Ben [Sullivan], who played Jeb, my son. He said, "Well, I would have cut it…" — if I wouldn't have let him hang! I had to laugh at that one.
Q: If you were in Hatch's position, what would you do?
A: I think once he comes to a conclusion, he doesn't second guess himself at all. In his world, it does make sense as far as putting Jeb up because they would not survive out there. Hatch is not someone that I would give advice to because he wouldn't listen. I love to joke around and have a good time, so the contrast between Aaron Hatch and James Shanklin is pretty vast.
VIDEO: Inside Episode 309 Hell on Wheels: Fathers and Sins
Q: The Cheyenne shootout was intense. Was it tough maintaining continuity with so much action?
A: It wasn't, because you become so familiar with the script by the time you get to shooting that I know where we are and what we're doing.  It just was so dang fun!
Q: Cullen is now Hatch's "son." Any jokes from the cast when that happened?
A: Well, one of my favorite things as a person and as an actor was when we were sitting at the dinner table and I said, "You will call me father." To be able to say that to that character was just so much fun. We joked a lot about it. He's now my son and I get to tell him what to do whether it's in the story or not! [Laughs] When you go back and look at Season 1 and Season 2, to see that character who is now calling me "father," who would have thought it? Siobhan Williams, who plays Naomi, and I just have so much fun with that.
Q: You met Bryan Cranston on the set of Argo . Did you try to find out how Breaking Bad would end?
A: I'm a huge fan! Personally, I didn't want to know. Like with each episode of Hell on Wheels, it's really that good that you should just experience it as it unfolds. I like to be surprised.
Click here to read an interview with Anson Mount, who plays Cullen Bohannon on AMC's Hell on Wheels.
Read More