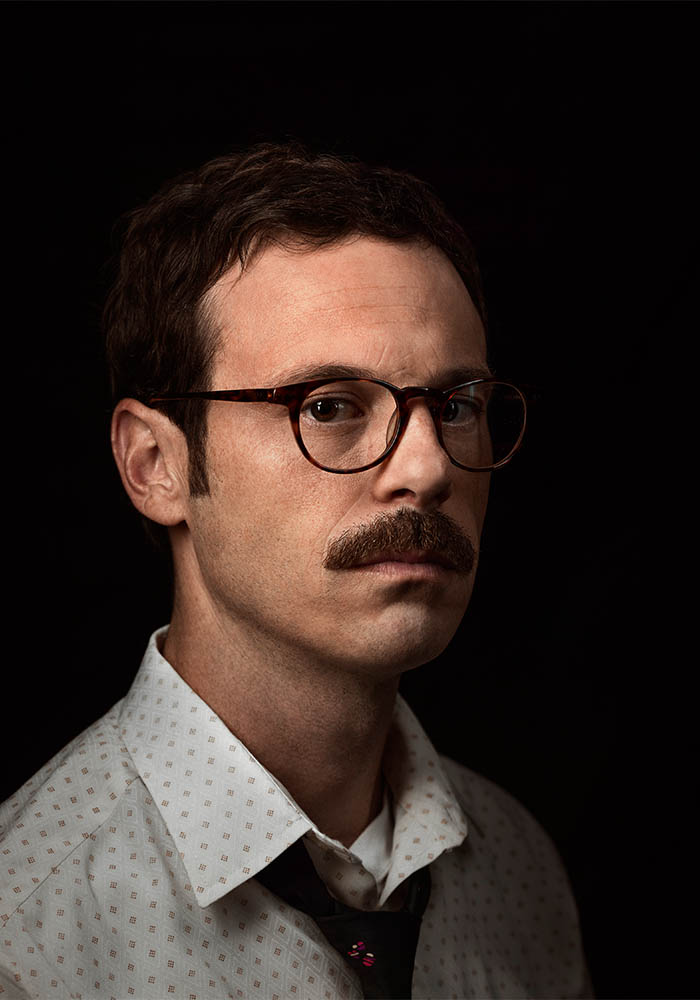 Gordon begins the season struggling at Mutiny, and in his marriage. With Cameron living in the same house as the rest of his recently-transplanted family, the lines between personal and professional have never been more blurred for him. Eager to shore a steady footing in this new world, Gordon seeks out a better place for himself in the company and at home, engaging with his work and his wife in ways he hopes will renew his love for both. Gordon also builds a surprising friendship with Cameron, but even this connection doesn't abate the gnawing sense inside that he deserves more, or at least something else. As his illness continues to progress and an ugly lawsuit against Joe heats up, Gordon reaches for his marriage, just as Donna becomes drawn towards her own ambitious goals.

Scoot McNairy is an award winning actor and producer who in recent years has come to industry attention in both capabilities.

McNairy currently stars on the critically acclaimed AMC series Halt and Catch Fire, which will return for a third season later this summer. In July he will begin shooting a lead role in the Netflix limited series Godless directed by Scott Frank and also starring Jack O'Connell and Jeff Daniels. Later this year he will reteam with Brad Pitt and David Michod in War Machine, which will also be distributed by Netflix. 

In February of next year McNairy will star opposite Jamie Foxx and Michelle Monaghan in Sleepless for Open Road Films. Other upcoming projects include the Jody Hill film The Legacy of a Whitetail Deer Hunter opposite Danny McBride and Josh Brolin as well as the lead opposite Arnold Schwarzenegger in 478, directed by Elliott Lester and produced by Darren Aronofsky.

McNairy was most recently seen in Zack Snyder's globally anticipated Batman v. Superman: Dawn of Justice; and in David Gordon Green's Our Brand is Crisis, in which he starred opposite Sandra Bullock and Billy Bob Thornton. 

Named one of Variety's 10 Actors to Watch in 2012, McNairy's other films as actor include Andrew Dominik's Killing Them Softly, in which he was the lead opposite Brad Pitt, and for which he was honored as a Breakthrough Performer at the Hamptons International Film Festival; David Fincher's Gone Girl, opposite Ben Affleck; Kevin MacDonald's Black Sea opposite Jude Law; Jaume Collet-Serra's hit Non-Stop, opposite Liam Neeson and Julianne Moore; Lenny Abrahamson's Frank opposite Michael Fasbender and Maggie Gyllenhaal; David Michod's The Rover opposite Guy Pearce and Rob Pattinson; Lynn Shelton's Touchy Feely opposite Ellen Page; Megan Griffiths' The Off Hours; Terry Zwigoff's Art School Confidential; and, also for Focus Features, Gus Van Sant's Promised Land opposite Matt Damon and Frances McDormand.

On the small screen, in addition to his work on Halt and Catch Fire, he has made guest appearances on hit shows such as Six Feet Under, The Shield, CSI, How I Met Your Mother, and (in a recurring role) Bones.

He was a Best Actor nominee at the 2010 British Independent Film Awards for his performance in the acclaimed independent film Monsters, written and directed by Gareth Edwards. The year prior, In Search of a Midnight Kiss, which McNairy both starred in and produced, was honored with the John Cassavetes Award [the Best Feature Made For Under $500,000] at the Independent Spirit Awards. The movie was written and directed by Alex Holdridge.

He shared a Screen Actors Guild Award with his fellow actors from the ensembles of Ben Affleck's Argo and Steve McQueen's 12 Years a Slave when they were voted Outstanding Performance by a Cast in a Motion Picture; in addition to many other honors, both films went on to win Academy Award for Best Picture in 2012 and 2013, respectively.

On the production side McNairy has formed The Group Films with John Pierce and they are currently in production on McNairy's directorial debut. Their film Frank and Cindy, starring Rene Russo and Oliver Platt, premiered at the 2015 Los Angeles Film Festival. The film is now available on Netflix and iTunes. The company's previous productions include James Cox's Straight A's, starring Ryan Phillippe, Anna Paquin, and Luke Wilson. Separately, McNairy recently reteamed with Gareth Edwards, as executive producers of Tom Green's Monsters: Dark Continent, the sequel to Monsters.