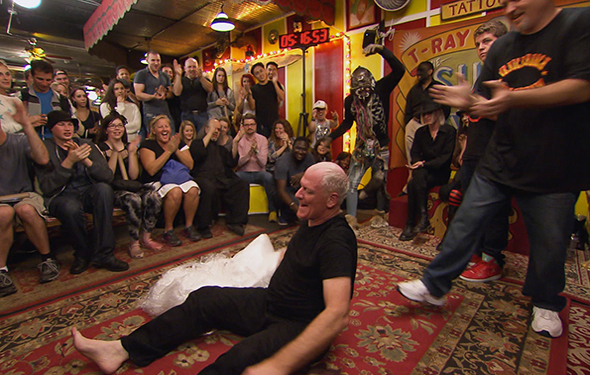 Freakshow Magic, Episode 15
Freakshow Magic
Todd holds a special magic event.
Show Full Recap
Full Recap
Todd announces that he and some members of the Freakshow have been invited to The Magic Castle, a famed club for magicians in Los Angeles. The tour will be conducted by Max Maven, an acclaimed magician and mentalist who Morgue considers to be one of the best in the business.
Todd, Phoenix, Creature and Morgue arrive at The Magic Castle where Max Maven brings them through various rooms and shows off magician memorabilia. One item in particular, a milk can used by Houdini during his famous escape tricks, catches Todd's eye. Todd decides that he wants the Freakshow to incorporate an escape artist stunt as a tribute to Houdini.
At the Freakshow, Danielle is concerned that Asia has changed since getting her own apartment. She has been dressing differently, has a darker attitude and doesn't keep in contact with her friends or family. Asia says that she has discovered her true self through her new "dark" style and hopes that her mother will respect that. With family tension in the air, Todd decides that he, Phoenix, Danielle and Asia should go to Vegas for a family vacation. He also plans to scout out new locations for the Freakshow expansion while in Vegas.
While on vacation, Asia and Danielle are still experiencing some tension in their relationship. Danielle apologizes to Asia and the pair decide that they need to communicate better. As the family explores Vegas, Todd spots some space for rent at the Circus Circus casino and thinks that it could work as a new location for the Freakshow.
Back in Venice Beach, the Freakshow is getting under way. To honor Houdini's legacy, Todd has enlisted his friend Harley Newman to perform a death-defying escape act. Encased in nearly half a mile of plastic wrap, Harley attempts to escape from a cocoon-like prison. To make the trick even more dangerous, Todd places a cork on the snorkel that Harvey uses to breathe while encased in the plastic wrap. As the crowd watches, Harley breaks free from the cocoon after being trapped inside without air for nearly five minutes. Todd is happy that his lifelong dream of bringing "real" magic and wonder to the Freakshow is finally coming true.
[brightcove video=3640243820001 width=456 height=388/]