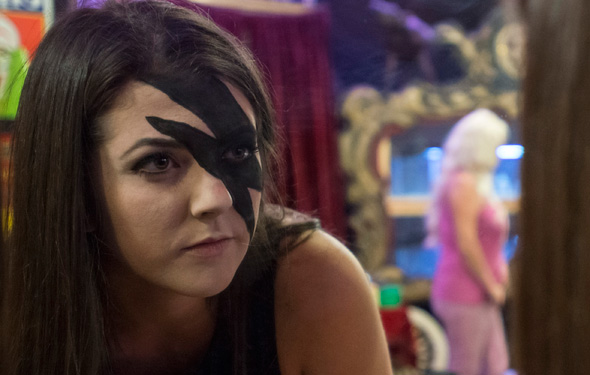 Electric Women, Episode 4
Electric Women
Asia tries to learn a new electric act.
Show Full Recap
Full Recap
For the Freakshow's first nighttime show, Todd asks the performers to come up with new stunts that they normally wouldn't do during the day. Asia discusses her desire to bring more danger to her Electric Lady act. Todd suggests that she work with Miss Electra, a performer famous for her tesla coil lightning-bolt stunt. Before Asia is able to contact Miss Electra herself, Todd meets with her and discusses passing on the stunt to Asia. Miss Electra is reticent. Later, on her own accord, Asia convinces Miss Electra to come see her perform at the Freakshow. Miss Electra is impressed and agrees to teach her how to use the tesla coil.
Meanwhile, Ali is having difficulty recovering from her hip surgery. Her husband Matt encourages her and eventually Ali is able to walk a few feet without the use of her walker.
Back at the Freakshow, Asia speaks with Todd about her continued concern over Jenevieve the Snake Lady not being a good fit for the Freakshow. Todd and Danielle make the decision to fire Jenevieve.
At the nighttime show, Todd pulls out all the stops. Asia wows the crowd with her tesla coil stunt, as she channels electricity through her body and lights a neon bulb. Todd and Miss Electra both express how proud they are that Asia will carry the tesla coil act into the next generation of freakshow performers.