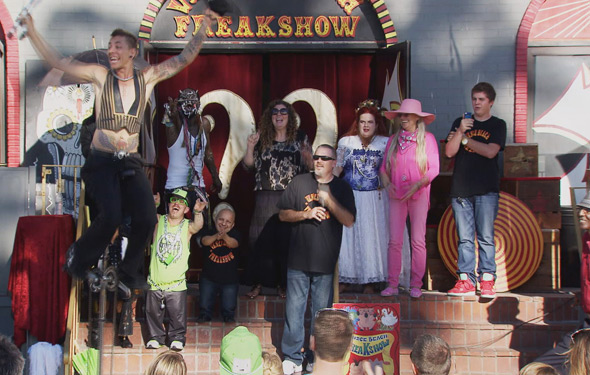 Breaking World Records, Episode 10
Breaking World Records
World record attempts are made.
Show Full Recap
Full Recap
This week, Todd and the Freakshow gang are looking to break some new world records. Asia and Morgue team up for a stunt that involves Asia using a whip to hit a target attached to a sword inside Morgue's belly.
At home, Todd shows Danielle some of his new oddities, including a pig that was born with his brain outside of its head. Now that the kids are growing up and barely home, Danielle wants to stay busy and suggests hosting a dinner party with the neighbors. Todd is hesitant, fearing they may be judgmental of his and Danielle's non-conventional lifestyle, but ultimately agrees.
Later, Chayne the Space Cowboy arrives at the Venice Beach Freakshow where he plans to achieve his 30th world record. Todd urges Jessa the Bearded Lady to go for the record of "longest beard on a woman."
Back at the Ray household, Todd is dismayed to find that Danielle has hidden his collection of oddities. However, he has a surprise of his own up his sleeve: he's invited some members of the freakshow to dinner. The neighbors arrive and are surprised by Ray's eclectic household and by Creature's unique look. George, Jessa, and Ali also arrive and Todd shows off his two-headed turtle to the amazement of the dinner guests.
At the Freakshow, Asia and Morgue's whip stunt goes off without a hitch and Jessa achieves the world record for the longest beard on a woman (11 inches). Chayne the Space Cowboy also breaks a world record by completing ten knife throws and catches on a unicycle while blindfolded. Todd is pleased that records were broken and new experiences were had at the Freakshow.
[brightcove video=3603884029001 width=456 height=388/]