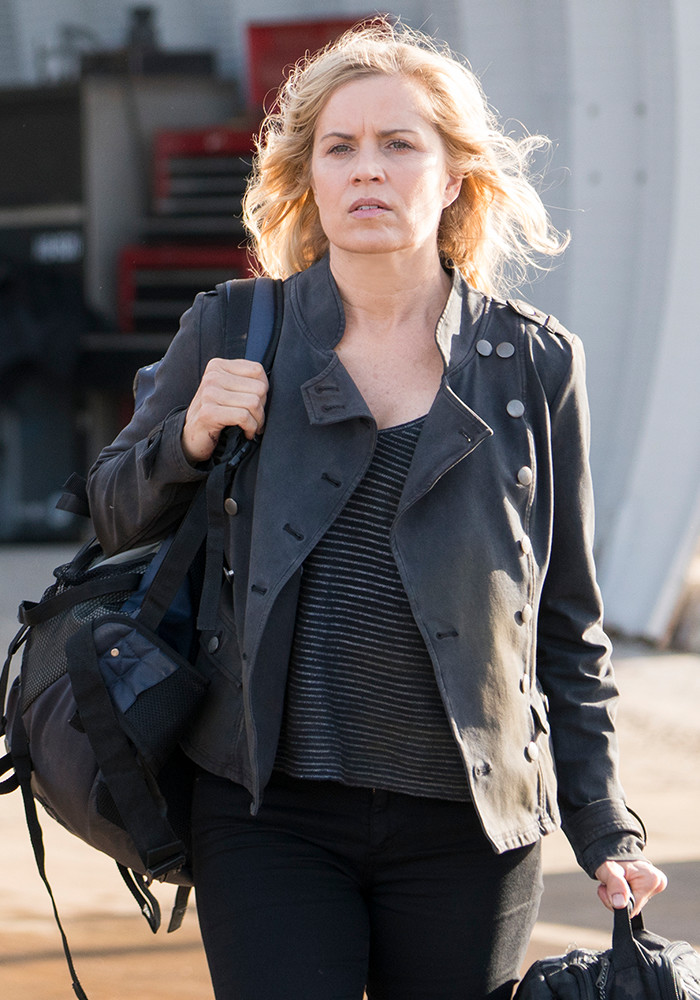 In Season 3, Madison moves beyond mercy. She promises herself never to repeat the mistakes of the past. If that means she must embrace brutality, so be it. As Madison evolves over the course of this season, we will see her turn even darker. Her ends are pure, but her means are morally compromised. She will sacrifice compassion – and she will risk those she holds most dear. In pursuit of Nick, Madison leads Travis and Alicia through the aftermath of the battle that ended Season 2 – a fight that could have taken Nick and Luciana's lives. Madison has reconnected with Travis, but Alicia is emotionally fractured by her murder of Andres. Their search for Nick will take them north into the United States. What they discover offers her family hope but demands sacrifice, and blood will be shed. Madison's maternal obligation will not weaken and she will evolve into our apocalyptic queen.

Kim Dickens has proven herself to be a versatile actress, portraying a vast array of complex and powerful characters throughout her career in television and film. Dickens was born in Huntsville, Alabama and attended Vanderbilt University in Nashville, Tennessee, where she majored in communication. Soon after graduation, she moved to New York City to continue her studies at the Lee Strasberg Theatre and Film Institute. She later graduated from the American Academy of Dramatic Art's two-year performing arts conservatory in New York City.

Dickens currently stars in the smash hit Fear the Walking Dead, the companion series to The Walking Dead. This critically acclaimed series became the No. 1-rated cable series premiere on record with 10.1 million viewers. The series also smashed records internationally, premiering across more than 125 territories for AMC Global, the largest ever day-and-date release for a U.S. series. Vanity Fair described Dickens as one of the most reliably appealing actors working today.

Dickens recently completed production on Craig William Macneill's biographical thriller Lizzie. The film follows the true events about Lizzie Borden, who was acquitted for the ax-murders of her father and stepmother in Fall River, Massachusetts in 1892. Dickens co-stars alongside Chloë Sevigny, Kristen Stewart, Jay Huguley, Fiona Shaw, Jamey Sheridan, Denis O'Hare, and Jeff Perry.

In 2016, Dickens was seen in Tim Burton's Miss Peregrine's Home for Peculiar Children. The 20th Century Fox film is an adaptation of the classic novel and stars Eva Green, Asa Butterfield, Ella Purnell, Allison Janney and Samuel L. Jackson. Based on the Ransom Riggs novel, the film follows a teenager who finds himself transported to an island where he must help protect a group of orphans with special powers.

In 2014, Dickens was seen co-starring in David Fincher's critically acclaimed psychological thriller Gone Girl, opposite Ben Affleck and Rosamund Pike. Based on the critically acclaimed, bestselling novel by Gillian Flynn, the story follows a man's quest to find his missing wife. Dickens played the tough yet sometimes sympathetic Detective Rhonda Boney.

From 2010 to 2013, Dickens co-starred in HBO's award winning drama Treme. Created by David Simon, the series focused on life after Hurricane Katrina as the residents of New Orleans tried to rebuild their lives, their homes and their unique culture in the aftermath of one of the worst natural disasters in the U.S. Dickens portrayed a struggling chef, Janette Desautel, who tries to keep her restaurant open while waiting to pay for her losses. Recently, Dickens, along with the cast of Treme, was nominated for a 2014 Primetime Emmy Award in the Outstanding Miniseries category.

In 2009, she appeared in John Lee Hancock's Oscar-nominated The Blind Side. Dickens portrayed Aaron's insightful high school teacher who fights to allow Michael into the school.

From 2008 to 2009, Dickens co-starred in NBC's smash hit Friday Night Lights, which depicted the trials and tribulations of a small town Texas football team, their friends, family and coaching staff. Dickens played hair stylist Shelby Saracen, Matt Saracen's (Zach Gilford) mother.

From 2006 to 2009, Dickens had a guest arc in ABC's Emmy and Golden Globe Award-winning series Lost. Dickens played a love interest to James Sawyer Ford (Josh Holloway).

In 2005, Dickens co-starred in the Golden Globe Award-nominated satirical comedy Thank You for Smoking. Dickens played Nick Naylor's (Aaron Eckhart) -- who lobbies for the Academy of Tobacco Studios -- disgruntled ex-wife.

From 2004 to 2006, Dickens was seen in HBO's Golden Globe Award-winning drama series Deadwood. Starring Timothy Olyphant, the show was set in the late 1800s and revolved around the characters of Deadwood, South Dakota, which was fraught with corruption and crime. Dickens played the depressed and self-loathing Joanie Stubbs who, aside from being a madam, was Cy Tolliver's (Powers Boothe) former lover.

In 2001, Dickens starred opposite Gabriel Mann in Allison Anders's The Things Behind the Sun. Dickens's role garnered her recognition with a 2002 Independent Spirit Award nomination. Dickens played a local rock singer in Florida whose band became increasingly popular, largely because of a controversial song.

Outside of acting, in 2015, Dickens became an Ambassador for the National Women's History Museum. The National Women's History Museum (NWHM), founded in 1996, is a nonpartisan, nonprofit educational institution dedicated to preserving, interpreting, and celebrating the diverse historic contributions of women, and integrating this rich heritage fully into our nation's history.

Dickens resides in Los Angeles.