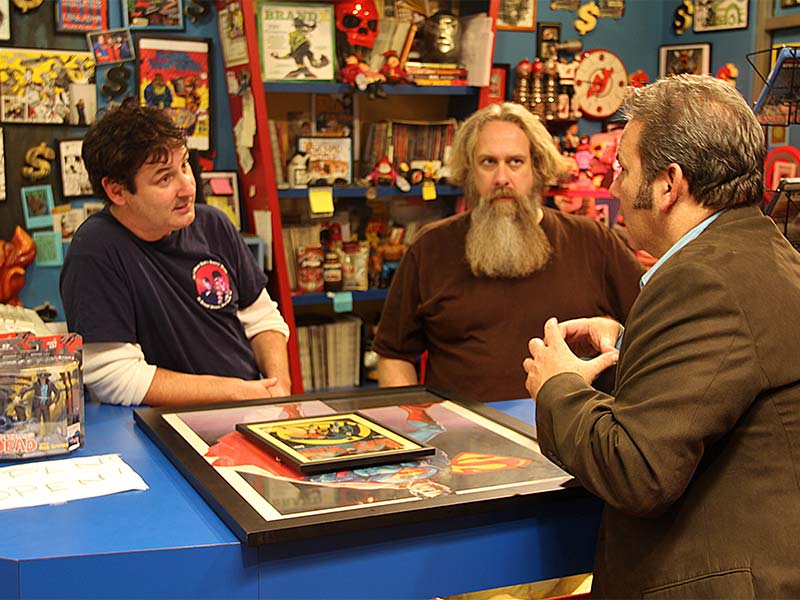 Season 1, Episode 5
Con Gone Wrong
Walt and the guys take a road trip to a convention in the area. After a major setback, the guys end up finding a literal treasure in the trash.
Show Full Recap
Comic Book Men is currently not in season. Watch full episodes of Season 6 on iOS, Apple TV, Android, Windows, Fire Tablets, Roku, Xbox One and amc.com
Purchase on iTunes, Amazon, Google Play and Xbox.
---
Past Seasons
Download or Stream
Full Recap
On their Comic Book Men podcast, the guys discuss what their personal superhero outfit would look like. Michael would wear a suit and a mask; Walt favors the Shroud of Turin and an anamorphic flesh head. "That's terrifying," says Kevin.
At the Secret Stash, Walt and Ming announce that everyone's going on a road trip to a comic convention at an Elks Club. Bryan wonders why they want to deal with comics on their day off, but agrees to come along.
Later, Bryan asks Michael if he's ever dreamed of usurping Walt as store manager. Michael says he likes the hierarchy as is. The conversation is interrupted by a seller with an autographed Avengers lithograph. Noting some damage, Michael declines to buy it for the store, but purchases it for his own collection. (The seller says the money will help fund a trip to San Diego Comic-Con.)
In the Stash basement, the guys gather merch for the Elks Club con, including comics signed by Kevin and a Boba Fett backpack. En route, they play a game in which Walt names two superheroes and everyone else decides who'd win a showdown.
Flashback to the store: Another seller brings in two Punisher items: a comic and a photocopy of an early sketch of the character. Since the comic is in poor condition the sketch is a photocopy, there's no sale.
When the guys arrive for the convention, they're surprised to find an empty Elks Lodge and learn the event was canceled. "There was nothing!" laments Walt.
Back at the store, Bryan asks Walt which superhero he'd want to work at the Secret Stash. Walt decides the Green Lantern because when he takes off the ring, "he's a hardworking dude." Bryan suggests that Superman could be bullied into stocking shelves by using Kryptonite.
The next seller is looking to unload a Catwoman Barbie that her husband bought for their daughter. The doll is based on the Halle Berry Catwoman, who the seller thinks "looks like a dominatrix." Walt isn't interested, but Ming decides he'll get it for his daughter for $10. "I'll take $10 just to get out of here," the seller says.
At a diner, Walt ponders how to salvage the road trip. Ming suggests selling merch out of the back of the minivan; Michael's got a better idea: Check out local garage sales.
The next seller in the store is a gentleman with a toy that he says is connected to the movie Commando, even though the character didn't appear in the flick. "Just because something's rare doesn't mean it's valuable," Michael notes. Walt decides he likes the figure, and buys it as a kitschy decoration.
The guys find a garage sale, where Walt discovers a box of old comic books and paperback comic collections, all priced way below value. "This is some amazing stuff," exclaims Michael. Despite Walt's protests, Bryan takes a Frankenstein bobblehead for the handlebars of his bike. Bryan also makes another find: four rare Mego action figures. The guys pay a mere $105 for their entire haul. "It was truly a day the gods smiled down on the Stash," says Walt.
Later, another seller does a hard sell on a framed Superman poster, claiming it's by a famous fashion illustrator, pointing out its homoerotic sensibility. Walt ends up passing on it so the seller brings out a Batman cowl that he claims was made to the specs of costume from the '60s TV series. Though there's no proof of authenticity, Walt buys it for $600. Afterwards, Walt researches the Superman poster and discovers that it's widely available and wasn't created by the illustrator the seller claimed. However, it was drawn by Drew Struzan, who created classic posters for Star Wars, Raiders of the Lost Ark and Kevin Smith's Mallrats.
At the shop, Robert Bruce confirms the great bargains on the Mego figures and the comics, but he's most interested in the Frankenstein toy that Bryan purchased, which turns out to be a rare Bike Buddy. He offers Bryan $150 for it. Bryan happily accepts.