Press
Five-Day Breaking Bad Marathon Leading to Series Finale Begins Wed., Sep. 25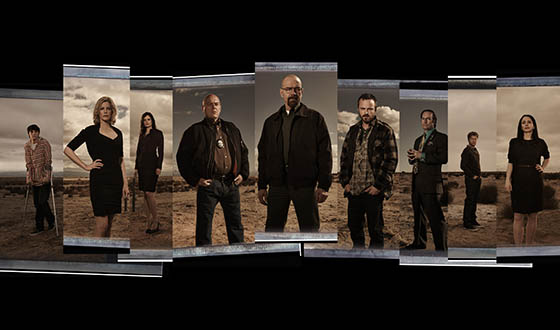 The Emmy Award-winning Breaking Bad, hailed as "Genius" (Tim Goodman, The Hollywood Reporter) and "One of the greatest shows ever on TV" (David Wiegand, San Francisco Chronicle), will air its final episode on Sun., Sep. 29 at  9/8c. Following the final episode, fans can discuss and dissect the end of the most addictive show on television with an expanded one-hour episode of Talking Bad, the live after-show hosted by Chris Hardwick.   Special guests on the final episode of Talking Bad include series creator Vince Gilligan, Aaron Paul, Jesse Plemmons, RJ Mitte, Giancarlo Esposito, Jonathan Banks and Jimmy Kimmel.
Leading up, and to get fans ready for the highly anticipated series finale of Breaking Bad, AMC is airing the Breaking Bad Marathon: Countdown to Finale, beginning on Wed., Sep. 25 at 8/7c with Seasons 1-4 and running through late night Fri., Sep. 27.  The marathon resumes with Season 5 on Sat. Sep. 28 at 11/10c and runs continuously up to the Series Finale on Sun., Sep. 29 at 9/8c.
Click here for a full schedule of the Breaking Bad marathon on AMC.
"We want to appropriately honor this remarkable series by delivering the ultimate, most immersive experience for Breaking Bad fans," said Charlie Collier, president, AMC. "From a five-day marathon featuring every episode across all five seasons, to an unforgettable finale rolling immediately into an expanded one-hour Talking Bad after-show, we are so proud of Vince Gilligan and everyone associated with this show, and believe this is the perfect way to send Breaking Bad from our air into television history."
During the last two episodes of the marathon leading into the Finale as well as the Series Finale itself, fans can also participate in www.amc.com's live, interactive experience, Breaking Bad Story Sync. Polls, trivia questions and a live "Watch & Chat" are all timed to coincide with the broadcast of the finale. Story Sync is optimized for Internet browsers, tablet and mobile devices all with the goal of connecting fans with each other and deepening their engagement with Breaking Bad's final episode.
On Twitter, fans and cast members will continue the conversation with hash tag #GoodbyeBreakingBad. The final episodes of the series have already generated significant activity on social media with Breaking Bad ranking #1 on cable for the week from Sep. 9 to Sep. 16 (Source: Trendrr).
AMC's newest drama, Low Winter Sun will shift to 11:15/10:15c, following Talking Bad on Sun., Sep. 29 only.  In the episode entitled "Revelations," written by Dave Erickson and directed by Adam Davidson, Frank testifies in court and Geddes takes his family on a trip.  Meanwhile, Damon and Maya start their new lives under Skelos.
To ensure that AMC pause to appropriately commemorate Breaking Bad, and also serve Low Winter Sun fans who want to watch on a regular schedule, this episode of Low Winter Sun will also be available to fans on AMC On Demand starting Mon.,  Sep. 23, 1-week prior to its linear premiere, on both VOD and TVE platforms.  It will then repeat again on Sun., Oct. 6 at 8/7c, leading into the 2-hour finale of season one of Low Winter Sun.
The Breaking Bad Series Finale airs Sun., Sep. 29 at 9/8c. Click here for a full schedule of Breaking Bad on AMC.
Read More