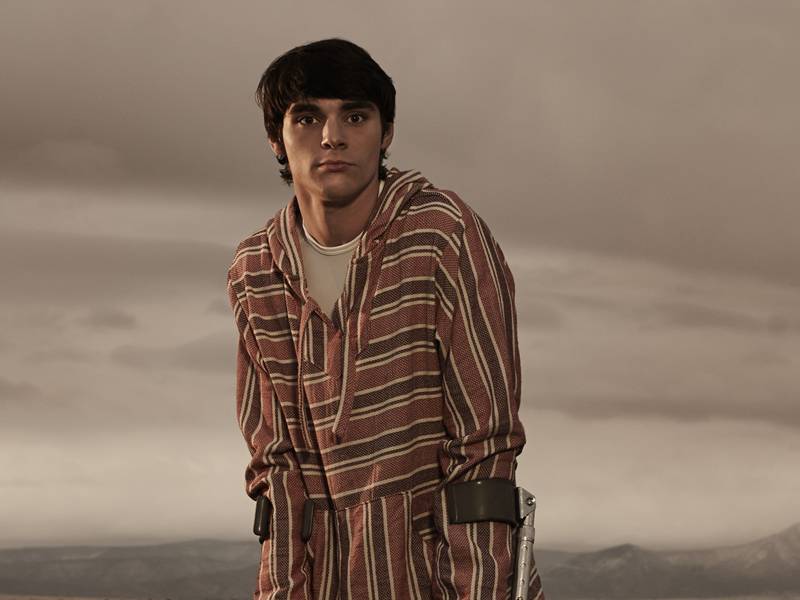 Walter White, Jr. is

Walt

and

Skyler

's son. Born with cerebral palsy, Junior is an otherwise typical high school kid who uses crutches to get around. He worships his father, and when Walt agrees to undergo expensive lung surgery, his son creates a website,

SaveWalterWhite.com

, to raise money. "What a wonderful dad I have," Junior declares on the site.

Walt's banishment from the family home alienates Walter, Jr. from his mother. When Walt shows up at the house and Skyler calls the cops, Junior tells them Skyler is the problem. "My dad, he is a great guy," he promises.

Walter, Jr. becomes elated when it appears that Walt will return home. Walt confesses that it's unlikely to happen, so Junior guilts his father into buying him a new car. When Skyler demands Walt return the sports car, Junior again blames his mother for the loss. He struggles to conceal his disappointment when she subsequently buys him a more sensible ride.

Walt misses Junior's 16th birthday party while recovering from a brawl with Jesse. Walter, Jr. confronts a bruised and highly medicated Walt, who breaks down in tears. He comforts Walt, who at one point calls his son "Jesse." The next morning, Walt worries that Junior will remember his father as he was the night before. "It wouldn't be that bad," Junior replies. Unlike the past year, Walt seemed "real" to him that night.

After launching a new meth business, Walt once again treats Junior to a brand new car. Skyler, worried that Walt's profession is jeopardizing the children's safety, arranges for Junior and Holly to move in with Hank and Marie. Unhappy with the decision, Junior tries to move back home. He refuses to leave until Walt gets tough with him, and then he begrudgingly returns to the Schrader house.

Walt eventually quits the meth business, allowing Junior and Holly to finally return home.

Just like his character on the show, RJ Mitte has cerebral palsy, although Mitte's is a milder form of the disability. His other credits include the upcoming fantasy thriller feature film House of Last Things and the documentary film CinemAbility, which takes a detailed look at the evolution of disability in entertainment and features a who's who of Hollywood, including Ben Affleck, Jamie Foxx, Gary Sinise and David Milch, among others. He recently had a guest-starring role on the CBS hit Vegas. Mitte also served as executive producer for Vanished: The Tara Calico Story, which had its debut at the 2013 Cannes Film Festival.

Mitte is involved with several organizations that raise awareness of equality and diversity. He is the Youth Spokesperson for the National Disability Institute's Real Economic Impact Tour, which works to improve the financial situation of low-income persons with disabilities. He is a spokesperson for I AM PWD, the tri-union campaign (SAG, AFTRA and AEA) which advocates for actors with disabilities, and for Beyond Diversity—The Future Is Now. As a guest speaker at high schools, colleges and universities around the country, Mitte openly talks about the ways he has overcome obstacles and how he has achieved his goals. In 2011 he became a Celebrity Youth Ambassador for United Cerebral Palsy, an organization which educates, advocates and provides support limits for people with a spectrum of disabilities.

One hot-button issue that Mitte has recently become vocal about is the prevention of bullying. Upon hearing that bullying was at the root of several teen suicides in 2010, Mitte began speaking out on the topic via YouTube, a statement to the press and in interviews. He has since been a featured guest speaker at an anti-bullying town hall discussion at the NAPT Annual Conference for school transportation professionals and begun working with PACER's National Center for Bullying Prevention on a national campaign designed to engage and educate those who see bullying -- leveraging peer-to-peer support.

Mitte spent much of his childhood in both Austin, TX, and Lafayette, LA, where he learned to deal with and overcome many of the challenges presented by his cerebral palsy.

In 2005, he accompanied his younger sister on a trip to Los Angeles and was encouraged by a talent agent to try acting. Early in his career, Mitte worked as a background actor on the TV series Hannah Montana and Everybody Hates Chris. Mitte's big break came when he was given the opportunity to audition for Breaking Bad.

As a child, Mitte learned the value of giving back, spending time working with his grandfather's philanthropic organization and partnering with Habitat groups to build houses around the world for communities devastated by natural disasters and poverty. These experiences helped set the backdrop for his future advocacy work in Hollywood.

In his spare time, Mitte enjoys physical activities like hiking Runyon Canyon, an L.A. hot spot, and ballroom dancing. Mitte's ambitions include directing, producing and finding work that will help him grow as an actor.

Read an interview with RJ Mitte for Season 1 »
Read an interview with RJ Mitte for Season 2 »
Read an interview with RJ Mitte for Season 3 »
Read an interview with RJ Mitte for Season 4 »
Read an interview with RJ Mitte for Season 5 »
Read an interview with RJ Mitte for the Final Episodes »
Walter White, Jr. Quotes
I don't see how that's bad. Dad's raking in the boo-coo bucks now.

EP 405 "Shotgun"
If you're going to buy me off, buy me off.

EP 406 "Cornered"
She's not even allowed to be mad at you. . . . Gambling addiction is a sickness.

EP 406 "Cornered"
I barely got around the block, and Mom said we couldn't afford it, so they took it back.

EP 407 "Problem Dog"
Thanks, Mom. It's, uh, it's great.

EP 410 "Salud"
The bad way to remember you would be the way you've been this whole last year. At least last night you were . . . real.

EP 410 "Salud"
Badass, Dad

EP 106 "Crazy Handful of Nothin'"
It's not that hard, Mom. It says 'crunch' on the box.
I kept up right?
My dad is my hero.