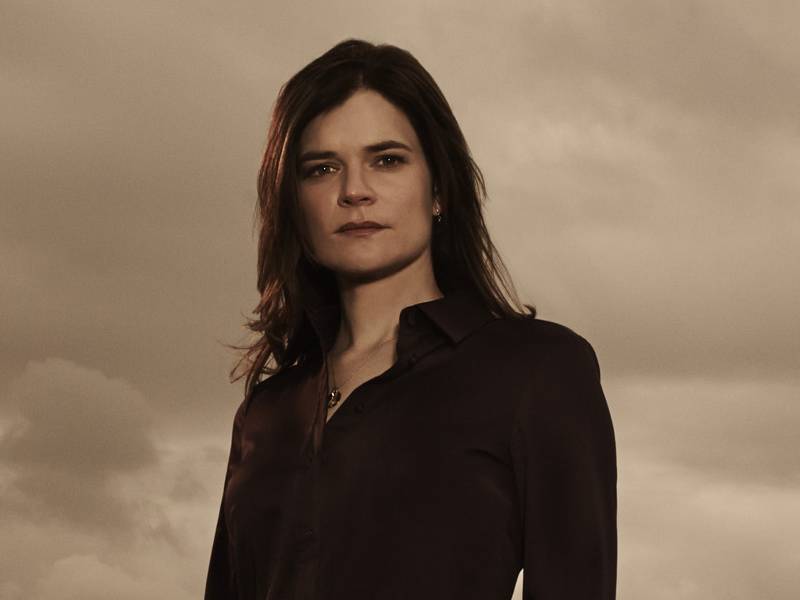 Marie Schrader is

Skyler White

's sister and the wife of DEA agent

Hank Schrader

. Marie is close with her sister, though her tendency to pry sometimes irritates Skyler. The sisters briefly fall out when Marie gives Skyler a stolen tiara for her unborn daughter. Marie, who's receiving treatment for her kleptomania, eventually apologizes. She and Skyler reconcile.

Marie becomes concerned about Hank when he begins having PTSD attacks after being ambushed by the Mexican drug cartel in El Paso. "It's like something's eating him away from inside," Marie confides to Skyler.

Though Hank refuses to open up about his feelings, Marie remains her husband's most tenacious advocate. When he brutally assaults Jesse, she urges him to lie about the assault. "It's some low-life degenerate versus you," she reasons. Instead, Hank admits his guilt, accepts a suspension and surrenders his sidearm.

After Mexican cartel killers attack Hank, Marie rips into the DEA for leaving Hank defenseless. Marie is equally blunt when insurance limitations reduce Hank's physical therapy options and thus his chances of walking again. "He is a hero, and he is not going to be in a wheelchair at forty-three," she declares.

Skyler stuns Marie with an offer to pay for top-notch care with money that Skyler claims Walt won in illegal blackjack games. Marie accepts the offer, but doesn't tell Hank.

Frustrated at the slow pace of his recovery, Hank constantly snipes at Marie. She reacts by returning to her kleptomaniac ways, visiting open houses and lifting various objects from unsuspecting homeowners.

After a friend on the police force helps Marie avoid arrest when she's caught thieving, Hank becomes involved with the Gale Boetticher murder. Marie is at first delighted that work is again motivating Hank, but her old fears return when the DEA receives a tip about another cartel hit on him.

Marie grows increasingly concerned for Skyler as her sister exhibits signs of depression. She demands an explanation from Walt after Skyler breaks down in hysterics at work. Walt tells her that Skyler's behavior stems from guilt over an affair with her boss, Ted Beneke.

When Skyler fakes a mental breakdown by submerging herself in the Whites' backyard pool, Marie agrees to take in Junior and Holly so that Skyler and Walt can work on their relationship.

Betsy Brandt is well-known to television audiences and this fall will star as Michael J. Fox's tough-yet-loyal wife in NBC's highly anticipated new comedy tentatively called The Henrys.

On television, Brandt has enjoyed multiple guest appearances on popular shows such as ABC's Private Practice and Boston Legal; CBS's "CSI: Crime Scene Investigation" and NCIS; NBC's hit drama Parenthood and ER; and USA Network's Fairly Legal. She was also a recurring guest star on CBS's Without a Trace, playing Libby Coulter.

In the summer of 2012, Brandt appeared in director Steven Soderbergh's blockbuster feature Magic Mike, alongside Channing Tatum, Alex Pettyfer, Matthew McConaughey, Olivia Munn and Matt Bomer. Previously, Brandt starred in the independent features Jeremy Fink and the Meaning of Life, Shelf Life and Memphis Bound...and Gagged and Confidence, which Variety called a "whip smart" film that "taps into a fresh source for American comedy."

Brandt has never lost her love of theater and in the fall of 2011 portrayed Holly in the West Coast premiere of Geoffrey Nauffts' Tony-nominated Next Fall at the Geffen Playhouse in Los Angeles. She originated the role of Mary in award-winner Julia Cho's The Language Archive in its world premiere at South Coast Repertory. She also starred in the world premiere of Beth Henley's Ridiculous Fraud, Much Ado About Nothing for the Arizona Theatre Company, Control+Alt+Delete for the San Jose Repertory Theatre, Truth and Beauty for South Coast Repertory, and Thirst at the American Conservatory Theater.

Brandt studied theater with the Moscow Art Theater School at Harvard and the Royal Scottish Academy of Music and Drama. She earned her BFA in Acting at Illinois Urbana-Champaign.

A native of Bay City, MI, Brandt now lives in Los Angeles with her husband and two children.

Read an interview with Betsy Brandt for Season 1 »
Read an interview with Betsy Brandt for Season 2 »
Read an interview with Betsy Brandt for Season 3 »
Read an interview with Betsy Brandt for Season 4 »
Read an interview with Betsy Brandt for Season 5 »
Read an interview with Betsy Brandt for the Final Episodes »
Marie Schrader Quotes
I knew it. 'Mineral show' is just some kind of guy code for 'strip club'.

EP 409 "Bug"
I'll tell you one thing. Your Hardy Boys routine is over. No more asking him to drive you on stakeouts.

EP 411 "Crawl Space"
It's happening again. The DEA called. They got some tip from an informant that the cartel, they want to kill Hank.

EP 411 "Crawl Space"
I hope you sell plenty of air fresheners. I hope you just have a banner day over there. Okay, Walt. Don't worry about a thing here.

EP 413 "Face Off"
It is a ridiculous idea, and there is no way you're going to do it. End of story.

EP 413 "Face Off"
You're giving positive reinforcement to behavior that Walt is working very, very hard to change.

EP 405 "Shotgun"
Does anyone actually want their car to smell like the bottom of a sixth-grader's desk?

EP 407 "Problem Dog"
It's not too late to have a grand opening… Let people know they're not going to have to face the eyebrows of doom when they come in.

EP 407 "Problem Dog"
You're really taking to this whole be-your-own-boss thing. Actually, I'm thinking about making a move up to management.

EP 408 "Hermanos"
The other day he had a big pow-wow with all the DEA muckety-mucks.

EP 408 "Hermanos"