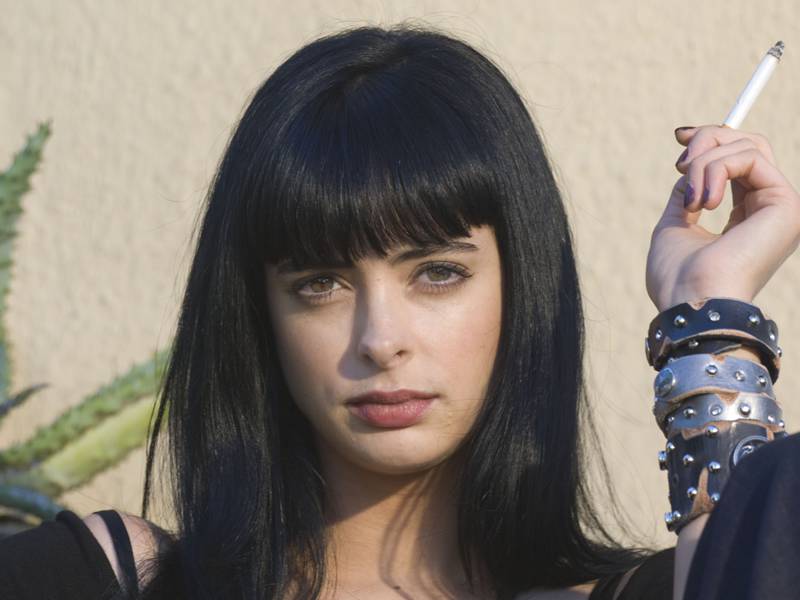 Jane is a tattoo artist and

Jesse

's landlady and girlfriend. She rents him the duplex apartment next to hers after he tells her his parents kicked him out of his house. "D.B.A.A.," she warns Jesse, who can provide no references for his lease. "Don't Be An Asshole."

The two fall in love quickly, though Jane disappoints Jesse by brushing him off as just a tenant in front of her father Donald. She later shows contrition by slipping a superheroine drawing titled "Apology Girl" under his door.

When Jesse offers Jane a joint, she refuses, revealing that she's in recovery. But she later joins him as he smokes crystal to ease his guilt after his dealer and friend Combo is killed by rival dealers. From there, Jane turns Jesse on to meth and heroin speedballs — causing him to miss Walt's meth deal with Gus — and then blackmails Walt for Jesse's share of the profits. "I just think if we had enough money nobody could make us do anything," she tells Jesse breathlessly.

Jane wants to use the money to escape her father — she's promised Donald she'll go back to rehab the next morning — but an overdose that night coupled with Walt's inaction causes her to choke to death in her sleep.

With her model looks and quirky style, actress Krysten Ritter is fostering an impressive body of work that encompasses both film and television.

Ritter stars as "Suze" in the Disney/Jerry Bruckheimer produced highly anticipated film Confessions of a Shopaholic alongside Isla Fisher. Confessions is the first in a series of Sophie Kinsella's best selling books. Ritter will also star alongside Alice Eve and Jay Baruchel in the Dreamworks film She's Out of My League. Ritter plays "Patty," the audacious and frank best friend and business partner of "Molly," (Eve). Ritter recently completed production on the indie feature How to Make Love to a Woman, in which she stars with Ian Somerhalder and Josh Meyers.

Ritter was last seen in Twentieth Century Fox's films What Happens in Vegas with Ashton Kutcher and Cameron Diaz and 27 Dresses alongside Katherine Heigl. She has two independent features awaiting distribution this year; Frost which premiered at Slamdance and the 2008 GEN Art Film Festival where Ritter played Ozzy, a troubled, but loving heroin addict alongside Jason Behr; and the indie film BuzzKill with Darrel Hammond. Other film credits include Mona Lisa Smile and the independent feature The Look.

In addition to her appearance on Breaking Bad, Ritter's notable television roles include Lucy on the hugely popular Gilmore Girls and Gia Goodman on the UPN hit series Veronica Mars.

Ritter's theater credits include All This Intimacy at 2econd Stage Theatre and the 2006 24 Hour Plays at the Signature Theatre.

Ritter is a member of the rock band called Ex-Vivian, which produced songs for both Frost and Buzzkill. She began her career as a client of Elite Model Management. She currently splits her time between coasts.

Read an interview with Krysten Ritter for Season 2 »
Jane Margolis Quotes
On second thought, I take that back. This is blackmail. Do right by Jesse. Tonight. Or I will burn you to the ground.

EP 212 "Phoenix"
[Holding Jesse's Money] "This is freedom. This is saying, 'I can go anywhere I want. I can be anybody.'

EP 212 "Phoenix"
D.B.A.A… Don't be an asshole.

EP 205 "Breakage"
A little culture won't kill you. Besides, you might like it. A lot of her paintings look like vaginas.

EP 209 "4 Days Out"
Jane: "Kanga-man. Half man, half kangaroo. And who's this in his pouch?"
Jesse: "His sidekick Joey. He rides around in his pouch and, you know, fights crime."
Jane: "So that makes Kanga-man a she. You know that, right? Only female kangaroos have pouches?

EP 210 "Over"
Jane: "You could come with me to a meeting."
Jesse: "No, no meeting."
Jane: "We could just, get out of here. It won't help.

EP 211 "Mandala"
Last time I went to rehab all of my house plants died because you didn't water them.

EP 212 "Phoenix"