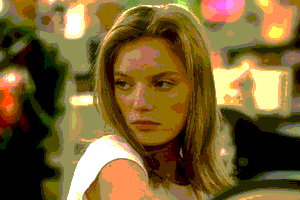 Believe it or not, this is a Christmas movie! And here it is, the middle of April, and there's nothing else I'd rather see.
Let me put it this way: Go is the best movie I've seen since Fargo. Doug Liman, the man behind the brilliant Swingers, (which, I realized, came out much too long ago, in 1996), has concocted such a film that I'm almost compelled to pay the whopping $8.50 to see it again.
Go is a seamier look at life than Swingers, brilliantly deconstructing Gen X life in latter-day Los Angeles, giving a new perspective on rave culture, drug dealers, the lure of Vegas, and even Amway distributorship. Through the lead characters of Ronna (Polley), Claire (Holmes), and Simon (Askew), you'll never look at grocery store clerks the same way.
Go owes its clever structure to Pulp Fiction, following multiple interlocking storylines and bouncing back and forth chronologically. To attempt to distill the plotlines here is to do the film an injustice, but it centers around Ronna's attempt to get $380 to pay the rent, which leads her to try to sell 20 hits of Ecstasy in a drug deal gone awry. Really awry. Completely unpredictable. Hilarious. All of it vaguely unified through the phrase, 'Go!'
I can't say enough good things about Go, and I urge you to see it. The acting, directing, and especially August's writing are all far better than we're all used to. You may not even know how to react.
That's why Go gets filmcritic.com's coveted and rarely awarded 5 stars.
Polley behind the checkout… definitely not 'plastic.'